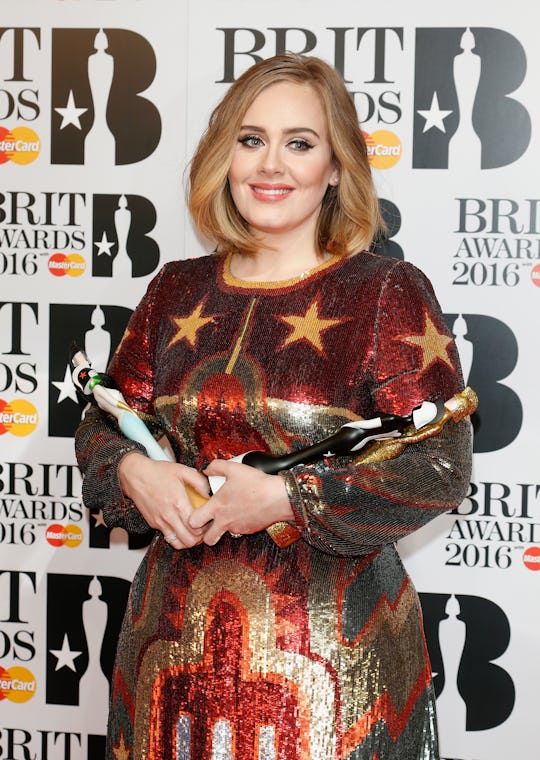 Luca V. Teuchmann/Getty Images Entertainment/Getty Images
Adele's Best Friend Shared Her Battle With Postpartum Psychosis In This Powerful Post
It's no secret that pregnancy, childbirth, and new motherhood cause a plethora of physical, mental, and emotional changes in women's bodies. The experience is a rollercoaster ride, for sure, and it's impossible to tell how you will cope unless you've been there yourself. (And even then, each experience can be completely different from the last.) That's why it's so important for women to talk about their battles with postpartum mental health disorders and, fortunately, one celebrity is using her platform to raise awareness for a lesser-known condition faced by new mothers. That's because Adele's best friend shared her battle with postpartum psychosis in a heartbreaking, but incredibly powerful post.
On Monday, the award-winning singer took to Instagram to share a photo of herself and her friend, Laura Dockrill, who recently penned an in-depth look into her struggle with postpartum psychosis. "This is my best friend. We have been friends for more of our lives than we haven't. She had my beautiful godson 6 months ago and it was the biggest challenge of her life in more ways than one," Adele captioned a photo of herself with her friend and her son. "She has written the most intimate, witty, heartbreaking and articulate piece about her experience of becoming a new mum and being diagnosed with postpartum psychosis. Mamas talk about how you're feeling because in some cases it could save yours or someone else's life."
For those who aren't familiar with the debilitating condition, postpartum psychosis affects roughly one to two in 1,000 women, and it's viewed as a medical emergency, according to Everyday Health. Women suffering from postpartum psychosis often first exhibit restlessness, irritability, and insomnia, along with a "rapidly shifting depressed or elated mood, disorientation or confusion, and erratic or disorganized behavior," according to WomensMentalHealth.org. Delusional beliefs, along with hallucinations instructing the mom to harm herself or her baby may also occur, the site noted.
Dockrill revealed in her tell-all blog post that her son recently turned 6 months old and that she has been battling against postpartum psychosis for just as long.
"It's not easy to admit that the worst time of your life was when your baby was born," Dockrill wrote on the blog Mother of all Lists. "Social media gives a very shiny exterior of life to be frank and it's not the full picture, so I wanted to unlock some doors and be honest — I've been somewhere I can't unsee and — in case there is anybody out there struggling — to open up a dialogue and say it's ok."
Dockrill explained that her traumatic labor and delivery is what her doctor suspects may have triggered her mental illness. After bringing home her baby boy, Dockrill felt as if she had "fallen out of love" with her life, and wasn't sure how she would ever know it again. "I thought I was going to hurt myself in some horrendous way and I was doing everything to try and avoid that," she wrote on the blog post. "... Sleepless nights turned into a mania where I felt like I was doing everything in frantic fast forward." She continued:
I was dazed and couldn't take in the simplest information. I would write weird scraps of stuff down on odd bits of paper about my sons routine to try and remind myself but they meant nothing. And then I would be hit with extreme lows where I felt like the world was caving in. I went from wanting to do everything for my little boy to completely ignoring his cries.
Between not being able to eat or drink, having severe anxiety attacks and suicidal thoughts, and even accusing her partner of kidnapping their baby, her life quickly spiraled out of control. "This was not something that yoga and art class could fix — I was beyond unwell," Dockrill explained in the blog post. "I was in a black hole where the whole universe was a threat to me. All I knew was doom."
Ultimately, her family orchestrated an intervention, and as she shared in the post, Dockrill was admitted to a hospital. There, she spent two weeks away from her baby and in therapy.
With the support of her family, as well as help from a psychiatrist, medication, and psychotherapy, Dockrill said she is healed and recovering more every day. This brave mama concluded her passionate blog post by speaking directly to those who might be currently in the depths of despair she had experiences.
It's nothing to be embarrassed about, it's a chemical imbalance, an avalanche of hormones and it is NOT your fault. I did not "have a breakdown" or "struggle" with motherhood — I didn't freak out because of a few sleepless nights and dirty nappies and "couldn't cope" ... I just got really sick.
She continued, "... if this post can relate to anybody that is feeling even a shimmer of this and it resonates with them then please speak to somebody and get help."
Although I haven't personally experienced postpartum psychosis, from what Dockrill has written, it sounds like she's been through pure hell and back. (I have struggled with postpartum depression, and that was bad enough.) Even as I read her words, I have a difficult time wrapping my head around everything this mom has gone through — and yet, she still has the strength to share her story. I have the utmost respect for Dockrill (and Adele) for spreading awareness for this less-known postpartum mental illness.
Hopefully, her words are able to reach other moms who are struggling with/have struggled with postpartum psychosis. To let them know they're not alone, that all is not lost. That there is coming back from the depths of such confusion and despair.