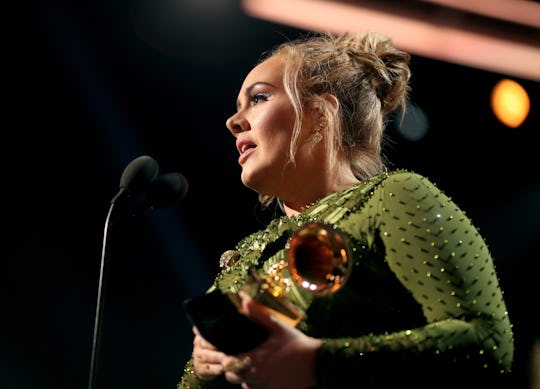 Christopher Polk/Getty
Adele Opened Up About Motherhood At The Grammys
In a surprising twist, Adele took home the Grammy for record of the year and album of the year, beating out Beyoncé who was widely expected to win. No one, in fact, seemed more surprised than Adele herself, and she made sure to give credit to all those who helped her to her win and made mention of her family. In fact, Adele's comments about being a mother at the 2017 Grammys were so relatable that it just sort of reinforces what an amazing person she is — regardless of whether or not her award should have gone to Beyoncé.
But her speech was about more than just Beyoncé, she also spoke about becoming a mother, and the struggles that go along with that. She said that when she had her child, she lost herself a bit. She started by pointing to the huge numbers of people on stage to accept her award with her. "As you can see it took an army to make me strong and willing again to do it. And I thank you all from the bottom of my heart," she said. "And in my pregnancy and becoming a mother I lost a lot of myself and I've struggled and I still do struggle being a mum. It's really hard. But tonight winning this really feels full circle and like a bit of me has come back to myself."
And then she immediately followed this up by saying she can't possibly accept this award because it rightfully belongs to Beyoncé. Which is why it is actually impossible to hate Adele. She Kanye'd herself right on stage to offer up her Grammy to Beyoncé, who created something so magical and moving to all the artists there.
But her comments about motherhood were also so important. It's easy to say that being a mother is a blessing, as of course Adele said it was, but she also reminded everyone that it is a damn struggle. It's hard. And sometimes you do lose yourself. Sometimes you cry on stage and sometimes you make mistakes during huge performances. And it's important to speak out about those struggles because they remind mothers everywhere who are having them that they are not alone. That's a crucial message. Adele spoke for all mothers, and all women in her reluctant acceptance of her award for Album of the Year. And that is why she is a damn queen.