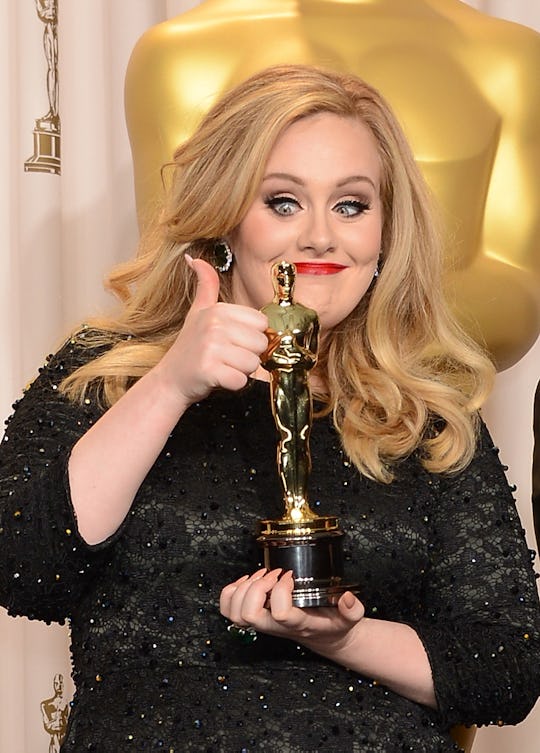 Jason Merritt/Getty Images
Adele's Gorgeous Bodyguard Has The Internet All Hot And Bothered (& With Good Reason)
While "Hello" has been somewhat unofficially deemed the song of the season, and the album 25 is blowing all others out of the water, social media has found yet another reason to obsess over a certain British singer. If you don't already know, Adele's extremely hot bodyguard has the Internet talking... and salivating. In case you haven't yet been blessed with the opportunity to see him for yourself, well, better take a seat — because his strong jawline, rippling muscles, and piercing blue eyes have everyone going weak in the knees.
So what do we know about the man who has captured a million hearts overnight? Well, for starters, his name is Peter Van der Veen. And according to Mashable, my boyfriend... err, I mean, Van der Veen is more than just Adele's bodyguard: He also won Mr. Europe, a bodybuilding competition, back in 2005. And it shows. The good news is, we'll all be seeing way more of Van der Veen in the upcoming months — especially now that he'll be protecting Adele as she makes public appearances to promote 25. (Yay!)
If the Dutch man looks pleasantly familiar to you, it's not all in your head. In fact, Van der Veen was previously Lady Gaga and Iggy Azalea's bodyguard, too. So, if you think this is the first time The Internet has hardcore creeped on him, think again. Some people proclaimed their love for Van der Veen after seeing him beside Lady Gaga — leading even the biggest fans to go "Lady Who?" One concerned user inquired, "Where is Peter, your sexiest and nicest bodyguard?" Another diehard admirer wrote "Meanwhile whilst @ladygaga gets a new bodyguard everyone can gorge over I'll still devote my time for my bae Peter Van Der Veen."
Though Van der Veen is probably used to all of this by now, it hasn't stopped Twitter from professing their love for him all over again.
Echoing what Sally said, "Simply WOW."
Image: Jason Merritt/Getty Images; Giphy (1)