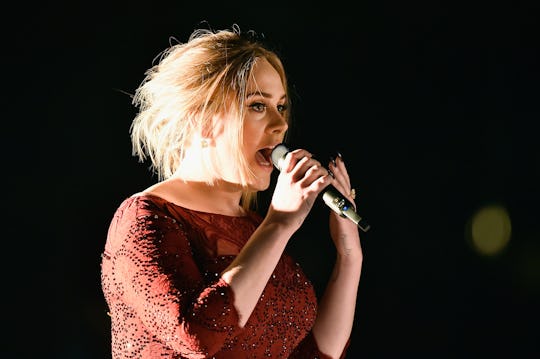 Kevork Djansezian/Getty Images
Adele's Grammy Performance Wasn't Perfect & Twitter Is Blaming Justin Bieber's Guitar
Although she is usually on point with just about everything she does, Adele's Grammy performance wasn't perfect. *Cue shocked gasps all around.* At Monday night's Grammys award ceremony, the singer performed her song "All I Ask" at the Staples Center in Los Angeles, but she had problems with her mic and her voice was just a little, well, off towards the end. ("A little off" is not something you ever say about Adele, so imagine how awful it was to write that. I am not OK.) Of course, viewers on social media were ready to complain about it.
(Update: CBS has confirmed that there were audio issues with Adele's performance. A spokesperson told Billboard that there was a 5-8 second issue with the sound that was out of the network's control.)
But really, guys? Of course, when someone is always just about perfect — on albums, red carpets, or even doing Carpool Karaoke on a late night talk show — it's hard to accept that they can make mistakes. But mistakes are sometimes made. No one can be amazing like Adele all of the time. Not even Adele. But for what it's worth, it might not have even been her fault. It looked like the real issue was whoever was playing guitar for her. And then she (wait for it) perfectly did as best she could to make it work. (Even so, blaming the guitarist or anyone, for that matter, totally misses the mark. Mistakes happen. Sound goes out. On a live show, you really can't predict what's going to happen next.)
Following the show Adele tweeted:
Some fans understood. One was quick to remind people that "voices come from humans. It's part of the charm." Because voices come from real-life people, sometimes they crack. Sometimes they hit an off note. So let's cut Adele a little slack. Especially because there is no way you sing better than Adele. Not in the shower, not in your car, not when no one's listening. Never. So you can't complain that Adele was a little off tonight. Or ever. There, I said it.
Meanwhile, some are even debating whether or not it was Adele or a sound issue with the guitar. And it the guitar was really off, we all know who to blame for that, right?
Bieber, of course.
People, people, people. This is supposed to be a fun evening. Leave Adele and Biebs alone. But someone get that guitar guy another gig. For real.