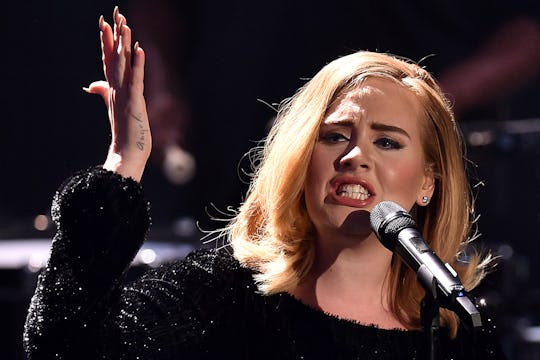 Sascha Steinbach/Getty Images News
Adele's Grammys Performance Sound Went Out & The Internet Wants Answers
At the Grammys on Monday night, Adele's Grammys performance sound went out right at the beginning of "All I Ask." Her performance opened with an introduction from Bruno Mars, who co-wrote "All I Ask" with Adele (I never imagined them collaborating, but since I love them both an embarrassing amount, it's a collaboration that I'm entirely on board with). Soon after starting, someone behind the scenes must have flubbed something with the sound levels, which kicked her performance off on the wrong foot. Update: a CBS spokesperson confirmed that there was a technical issue that lasted five to eight seconds during Adele's Grammys performance, but that the malfunction was outside of CBS' control, according to the Associated Press.
Even after the sound levels jumped back up, there seemed to still be a few technical difficulties. The editing on the sound of the instruments and Adele's singing were slightly off throughout. Adele, despite being a goddess, seemed slightly flustered, but she pushed through and still managed to deliver a great performance.
The Recording Academy's Twitter account didn't deliver an explanation, but that didn't really matter. It was clear that there was some kind of malfunction behind the scenes, and hey, it's a live event — it happens. But the internet was not happy about the interruption, and fans wanted answers. Like, stat.
Adele fans on Twitter had plenty to say about the technical difficulties. Watch the glitch below:
And here's how Twitter responded:
All my respect goes to Adele, though — she killed it even when the odds (or the sound engineers) were against her. After the show she tweeted:
TBH, I'm with Adele. Worth it.