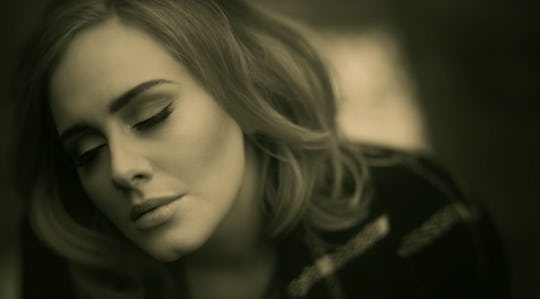 AdeleVEVO/YouTube
Adele's "Hello" Is No. 1 On The Charts, Because Of Course It Is
Thank goodness for tissues and waterproof mascara. Since Adele released her new song, "Hello," on Oct. 23 after a three-year break, we've been crying into our pillows, singing it in our showers, blasting it at full volume and belting it in our cars ever. The love clearly shows: "Hello" debuted at No. 1 on the Billboard Hot 100 Monday. According to Billboard, the single broke the record for downloads sold in a week (1,112,000) and pulled in 61.6 million streams.
Adele's success is continuing the momentum female artists have built recently, including but not limited to Taylor Swift, Nicki Minaj, and Meghan Trainor. 
"With her fourth No. 1, Adele ends the Weeknd's six-week dominance, becoming the first woman to top the chart since Taylor Swift did it in June."
Adele also became the first woman to have a No. 1 debut since Taylor Swift released "Shake It Off" in September 2014, and the video for "Hello" broke the 24-hour viewing record held by "Bad Blood." The song continues to get a lot of love online: not even two weeks after the song's release, viewers watched the YouTube video more than 197,000 times. With the strong vocals, striking instrumental accompaniment and stunning visuals, "Hello" serves as a powerful reintroduction to Adele's music and artistry.
With all of the enthusiasm surrounding the new single, Adele is expressing her gratitude. She responded to fans' support with a tweet on October 29:
Who doesn't love a strong, talented woman with a sense of humor?
Image: AdeleVEVO/YouTube