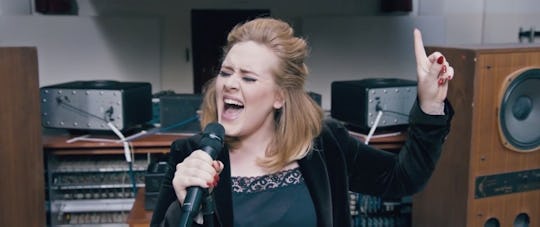 AdeleVEVO/YouTube
Adele's New Song 'When We Were Young' Was Just Released, So Prepare To Have A Lot Of Feelings — VIDEO
If you started the day off smiling, get ready to finish it off by sobbing. (But like, in a good way.) Adele's newest song, "When We Were Young" just dropped today, along with a brand new music video. And in that classic Adele way, it'll bring on a whole lotta feelings. (So if you thought your ugly-cry to "Hello" was bad, just you wait.) Filmed during a live performance at London's The Church Studios, the video has nearly 500,000 views already — and as I sit typing this, it's been up for less than seven hours!
"When We Were Young" precedes the highly-anticipated November 20 release of Adele's new album, 25, which is already poised to be huge. In an interview with The Guardian, Adele said that she decided against a 2014 release date for 25 in order to ensure that every song was perfect. "I would have been embarrassed if I'd got away with that record," she says. "I was trying to hurry." After a four-year hiatus, Adele is already hitting big with "Hello." The video for the single has nearly 400 million views, and the song is spending its third consecutive week at number one on the Billboard Hot 100. While the video for "Hello" has high production value and an artsy feel, "When We Were Young" captures all of the raw intensity of a live Adele performance:
Naturally, Twitter is freaking out:
In just a matter of minutes, Adele brought the world to tears:
Basically:
Man, Friday can't come soon enough! The countdown begins for the release of 25.
Image: AdeleVEVO/YouTube