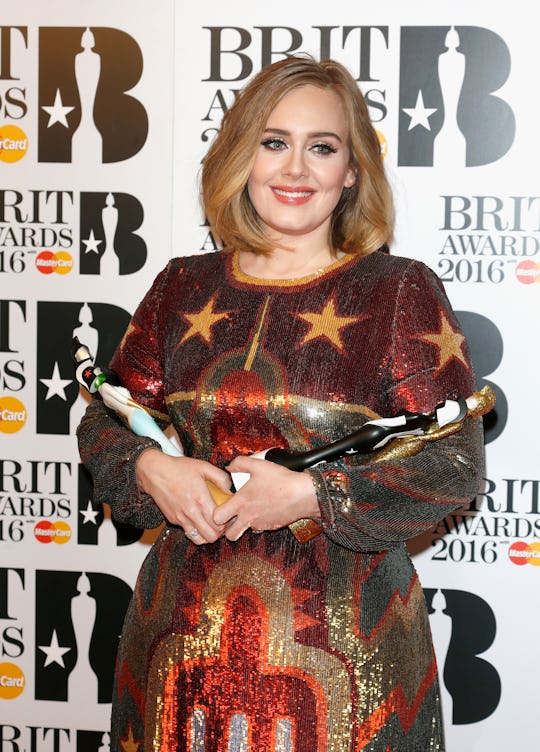 Luca Teuchmann/Getty Images Entertainment/Getty Images
Adele's Oscars Tweet To Leonardo DiCaprio Shows That Pretty Much Everyone Is Rooting For Him To Win
It is officially the day of the Academy Awards and everyone is getting excited. Whether they are preparing for the red carpet or watching from home, it seems as if people are more anxious than ever for the mostly highly anticipated awards show of the year or, alternatively, the biggest night for the film industry and those in it. This year, the Oscars will definitely be a show to watch, as there are a lot of strong contenders in the running for Best Actor. However, it was singer Adele's Oscars tweet to Leonardo DiCaprio which showed that pretty much everyone is rooting for the tireless actor to win the award for the first time in his storied career, despite the throng of talented faces in the line-up.
"Good luck Leo! Everyone loves you because you're the best," Adele tweeted on Sunday, jokingly adding a photo of herself photoshopped into the iconic grand staircase scene from Titanic, the film that originally shot DiCaprio to fame. "Meet me at the clock anytime bruv X."
It has been a love/hate relationship between DiCaprio and the Academy, which seems to love to nominate the actor but has yet to reward him with a win. DiCaprio has been nominated for an Academy Award five times since 1994 (wow), but has lost every time. (DiCaprio is nominated for Best Actor this year for his role as fur-trapper Hugh Glass in the film, The Revenant.) How does that saying go? Always a bridesmaid never a bride? Or always a nominee never a winner?
According to IMDb, DiCaprio has been nominated for a whopping 193 awards total, and he's won 77 of them — which isn't so bad, considering how many actors never even get recognized for their work at all.
Despite the humor in her tweet, Adele wasn't alone in her encouragement for the actor to win. Actor Eddie Redmayne, who is nominated alongside DiCaprio in the Best Actor category for his performance for his role in The Danish Girl, told a crowd at The Film is GREAT Reception this past week that he supported DiCaprio to take the win, according to The Independent. "In my mind it is pretty much certainly Leo's year and he really deserves it," Redmayne said. "I am going along to enjoy the night."
Various news and media websites have also predicted that DiCaprio is the favorite to win this year for Best Actor — and all things considered, they might not be wrong.
Tonight we'll see if all that cheerleading pays off for DiCaprio, and whether or not he officially becomes a winner in the Academy's eyes. If not, it is safe to say everyone else sees him as one.