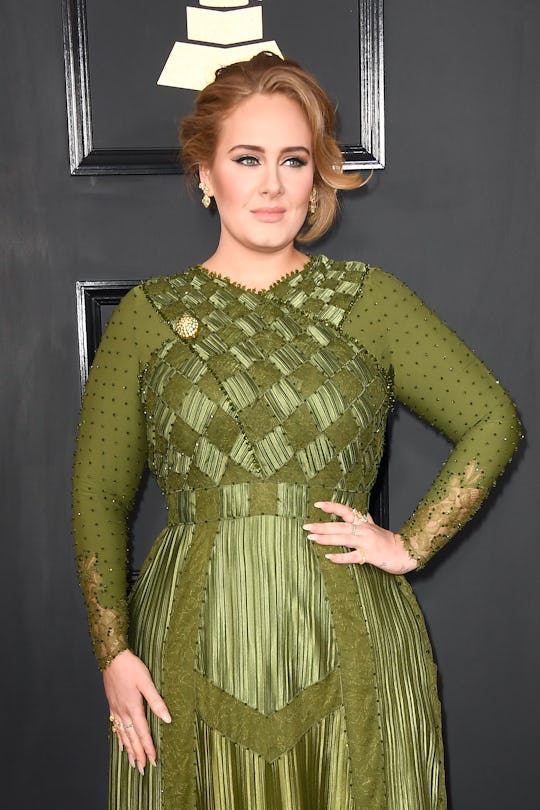 Frazer Harrison/Getty Images Entertainment/Getty Images
Adele's Grammys Performance Is A Must-See, Duh
Three of the five artists nominated for Album of the Year are set to perform at the 2017 Grammy Awards and among them is Adele, whose hit record 25 went multi-platinum last year as one of 2016's richest sources of feels. Her biggest competition, in both performance and the categories she's nominated in, is Beyoncé and Lemonade. (Sturgill Simpson rounded out the performers from the Album of the Year category.) Though all eyes were on Beyoncé for her first appearance since her pregnancy announcement, Adele's performance at the 2017 Grammys was a pretty dramatic redemption story, too.
Adele has performed three times at the Grammy previously, in 2009, 2012, and 2016, but last year's performance was marred by a technical difficulty which she later claimed "threw the whole thing off." While singing with a piano accompanist behind her, a mic fell down onto the keys and, although she forged on with the performance, the sound temporarily cut out as the production crew raced to swap out the fallen mic. It was an awkward thing to happen right at the beginning of the performance and she never really recovered. So there was some pressure for Adele to redeem herself this year.
Luckily, her performance of "Hello" at the 2017 Grammys was without disaster. It seemed like she may have had a little trouble hearing herself in the beginning, but once she hit her first chorus, the Album of the Year nominee sailed smoothly through the rest of the song.
Adele appeared on the red carpet in a long-sleeved chartreuse gown, cheekily accented with a rhinestoned broach in the shape of a lemon — presumably a nod to her competitor, Beyoncé. But she did an outfit change and ditched the broach to take back focus during her powerhouse performance of "Hello." Potentially having learned from last year, she decided to take the stage alone this time around, sans pianist. Although, as some folks on Twitter noticed, the neon ring around her on stage did make it look like she was standing on top of an Amazon Echo.
Adele has already taken home the awards for Best Pop Vocal Album for 25 and Best Pop Solo Performance with "Hello." But her big awards of the night are, of course, Album of the Year, Record of the Year, and Song of the Year. And honestly, if she has to lose in any of those categories, Beyoncé is a pretty impressive artist to lose to.