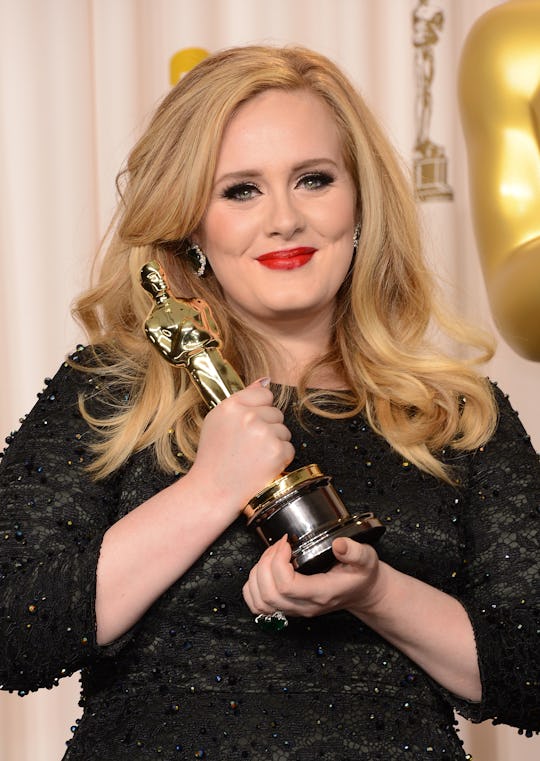 Adele's Rolling Stone Interview Shows She Dominates Motherhood, Too, For These 4 Reasons
We all know Adele kills the music game. But, as Adele's Rolling Stone interview proves, she's also at the very top of the motherhood game. Not only does she have a great perspective on raising her three-year-old son, Angelo, but she is is totally the type of mom you'd want to chat with during a playdate.
Most of us first got to know Adele when her album 21 was on its way to total global domination in 2011. At the time, Adele was going on 23, in between relationships and "able to drink anyone under the table and still be able to put on an all-right show," she told Rolling Stone. That all changed rather quickly when she began dating Simon Konecki in Summer 2011 — and especially when the couple welcomed Angelo in October 2012. In the years after that, Adele largely put her career on hold to instead work on her relationship and family life. 
Then in October Adele reemerged with "Hello," which has quickly accumulated a whopping eight music-related records. In a new interview with Rolling Stone, we're getting to know who Adele is as a mom for the first time. And it's pretty obvious she's just as good at that as with anything else she tries...
She Isn't Afraid To Put Parenting Ahead Of Her Career
When Adele announced she was taking a "four or five year" break, it wasn't just heartbreaking for us fans, but also a bit of a gamble for someone seemingly at the top of her game. She never regretted it, though. "My career's not my life," she told Rolling Stone. "It's my hobby." That's why it took a full six months to go from writing the verses of "Hello" to finishing the chorus — with much of that time instead devoted to Angelo.
She Doesn't Let Fame Get In The Way Of Public Outings
On the day of the interview, Adele wanted to take Angelo to the zoo — a plan that was only ruined by London's weather. Still, she makes a big effort to get out and about with the active little boy, saying, "I've been to every f**king park, every shop, every supermarket you could ever imagine." Surprisingly, she manages that by going mostly incognito when she's not dressed in "full, done-up, hair-and-makeup drag."
She Made Health A Bigger Priority
Adele said one reason she isn't drinking "anyone under the table" anymore is because "with kids, hangovers are torture. They just know. They pick up on it and just go for you." She also quit her cigarette habit for the sake of Angelo, saying, "I absolutely loved it, but it's not that fucking cool when I'm dying from a smoking-related illness and my kid is, like, devastated." And then there's her new commitment to working out — although she said her regimen mostly consists of her moaning in pain. As she put it, "I'm not, like, skipping to the f*cking gym. I don't enjoy it."
She Found New Meaning In Life
Although motherhood put Adele's latest album on a slower track, she said it may not have ever happened if Angelo wasn't in the picture. "But I think actually the pregnancy was perfect timing in the end. It might've seemed like the most ridiculous time to have a baby, but I was starting to get a bit afraid of everything," she said. "I don't know if I would've come back had I not had my kid." Instead, Adele said having a baby empowered her in a way she wasn't before. "I was like, 'I don't want to wait until my kid is 16 to show him who I am.' Because I'm very proud of what I achieved. And I wasn't, before I had Angelo. I didn't understand, actually, what I had achieved and how far I had come."
In other words, Adele isn't just back... She's back and better than ever. Isn't it cool how motherhood can do that?
Image: Jason Merritt/Getty Images