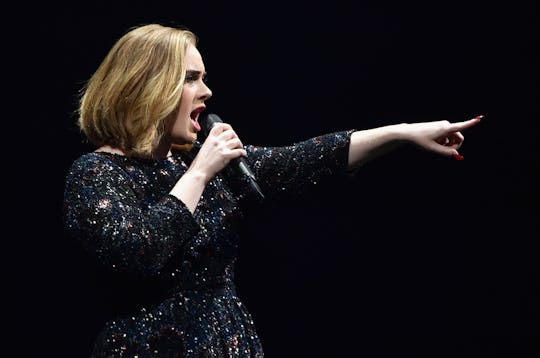 Gareth Cattermole/Getty Images Entertainment/Getty Images
Adele's Spice Girls Tribute Makes Everyone's Heads Explode
Stars, they're just like us. Take away the powerhouse voice, killer songwriting skills and multiple awards and Adele is just another 20-something lady with a serious love for the Spice Girls. The singer displayed her fangirl status during an Amsterdam concert recently. Take a look at Adele's Spice Girls tribute to find out what is making everyone's head explode.
Adele channeled some serious 90s girl power during a recent tour stop, singing a few bars of the girl band's hit 1997 song "Spice Up Your Life" on stage in Amsterdam. In a video captured by a concert attendee and shared by Emma "Baby Spice" Bunton, herself, the 28-year-old can be seen dancing and calling out "Spice Girls!" on stage in front of a crowd of adoring fans. When the audience responded with clapping and a Spice Girls chant of their own, the modest Grammy-winner said, "Oh, stop it, I'm not a Spice Girl," before teasing a few lines from "Spice Up Your Life."
Adele's tribute was the perfect dose of nostalgia for many fans of the '90s girl band. Plus, it's nice to remember that despite all her glamour, Adele is really just like us and loves a little spice in her world, too.
This isn't the first time the Londoner let her girl power shine through. Earlier this year, she appeared in a Carpool Karaoke sketch on The Late Late Show with James Corden where she revealed her longtime love of the Spice Girls. "It was a huge moment in my life when they came out," the pop star revealed. "It was these five ordinary girls that did so well."
The die-hard fan and mother of one even admitted to having a Spice Girls-themed birthday party as a kid. And, like all real '90s girls, she favored one SG over the rest: In her case, Adele identified to "Ginger Spice" (aka Geri Halliwell) the most.
I'm sure Adele is fangirling hard right now because Halliwell re-shared the concert clip on her own Twitter page with the caption, "Go @Adele." Enjoy it, girl! It's not everyday your childhood icons tweet encouragement at you. (But then again, we aren't all playing concerts in front of thousands of people).
The Academy Award-winner is currently on a whirlwind concert tour for her third studio album, 25. The tour consists of 105 concerts around the world. She will be performing in Europe until June 15 before heading over the pond to North America in July.
With the Spice Girls reunion tour plans currently stalled, what if they hitch a ride with Adele and open for her in the United States? Just a thought. No pressure (aka make this happen!).