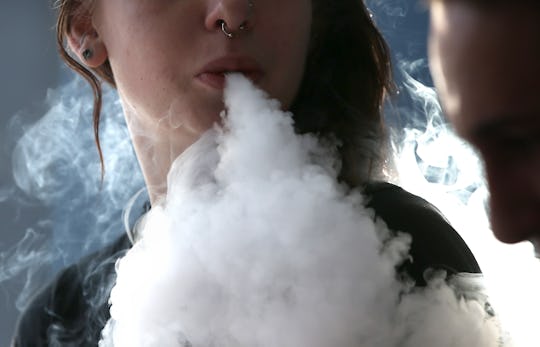 Justin Sullivan/Getty Images News/Getty Images
Most Adults Think Secondhand Exposure To Vaping Is Safe
Thanks to years of studies and research proving the detrimental health effects of cigarettes and smoking, it would likely be near impossible these days to find someone who isn't aware that exposure to cigarettes is bad for you — even if you don't smoke them directly. But what about vaping? E-cigarettes and vaping products have become increasingly popular in recent years, but a recent report published by the Centers for Disease Control and Prevention has found that, for the most part, adults don't think secondhand vaping is bad for kids. According to NPR, 40 percent of adults surveyed said they thought exposure to the aerosol created by e-cigarettes posed only "little" or "some" harm to children, while one-third of adults said they weren't sure.
Part of the confusion, to be sure, is that as recently as a few years ago, vaping was considered to be reasonably free of risk. In 2014, USA Today explained that, compared to traditional cigarettes, e-cigarettes "do not contain carcinogens such as arsenic and vinyl chloride," and that vaping did not present a risk for secondhand exposure like cigarettes.
But according to the U.S. Department of Health & Human Services, that's not exactly true. According to Know The Risks, a government website about vaping for young adults, the aerosol formerly thought to be harmless can actually be quite dangerous. Specifically, the website noted that:
The aerosol from e-cigarettes can contain harmful and potentially harmful chemicals, including nicotine; ultrafine particles that can be inhaled deep into the lungs; flavoring such [as] diacetyl, a chemical linked to a serious lung disease; volatile organic compounds such as benzene, which is found in car exhaust; and heavy metals, such as nickel, tin, and lead.
Though the website acknowledges that "the health effects and harmful doses of e-cigarette contents when they are heated and turned into an aerosol" aren't yet fully understood, it emphasized that at least some risk seems to clearly exist, and that secondhand vaping could be a major cause for concern. So much so, in fact, in a December 2016 report, the U.S. Surgeon General listed e-cigarettes and vaping as "a major health concern," and recommended that secondhand aerosol from these products be avoided, according to NPR.
Part of the government's pushback against vaping though is likely due to the sheer popularity of e-cigarettes among young people. In addition to the general belief that these products are safe, they're also much more appealing to younger users than traditional cigarettes. According to the CDC, 90 percent of young adults who use e-cigarettes opt for flavored products (they can come in various flavors, including menthol, candy, fruit, or chocolate), and each year, a huge amount of money is spent on advertising to help ensure vaping's popularity among young people ($125 million in 2014, for example). In fact, while traditional smoking rates among young people in the United States are declining, according to the CDC, e-cigarette use is on the rise — so much so that e-cigarettes are now the most commonly used form of tobacco by youth in the United States, according to the U.S. Department of Health & Human Services.
That's a problem, because research is finding that e-cigarettes may carry similar kinds of risks for cancer and lung damage as cigarettes do. In May, for example, the American Urological Association said that in a study looking at the urine of e-cigarette users, 92 percent tested positive for having carcinogenic compounds in their urine, and a separate study found that "e-cigarette smoke induced tumorigenic DNA damage in bladder mucosa." The takeaway? While further study is needed, the results led researchers to predict that "e-cigarette smokers have a high bladder cancer risk" compared to those who abstain.
What's also concerning? A Jan. 2017 study published by researchers at the University of Salford found that the flavorings used in e-cigarettes (which are such a big hit with young people) could lead to major lung damage. According to ScienceDaily, researcher Dr Patricia Ragazzon said, "some of the flavours we tested proved to be substantially toxic [when inhaled], with prolonged exposure killing bronchial cells completely."
The exact danger of secondhand exposure to vaping might not be known, but the potential risk has been enough for many cities in the United States to introduce measures prohibiting e-cigarette use in public spaces. In May, city council officials in Austin, Texas approved a motion banning smoking e-cigarettes in public, according to KXAN News, based upon findings by the U.S. Food and Drug Administration that show e-cigarette vapors contain carcinogens and toxic chemicals. And it seems like an important move: earlier this year, a CDC study found that 1 in 4 middle and high school students reported being exposed to secondhand smoke from e-cigarettes.
While not everyone agrees that vaping is dangerous, or worthy of the scrutiny it's been receiving, it also doesn't seem entirely unreasonable to push for increased caution when it comes to the potential risks of secondhand vaping — especially for kids and young adults. After all, the dangers of traditional cigarettes were once unclear too, and given the fact that e-cigarette use is a relatively new phenomenon, it's clear that more research is needed. As the CDC's Dr. Brian King explained to NPR, the concern "ultimately comes down to a lack of knowledge over the inherent risks of these products." And while researchers are beginning to understand the direct effects of vaping on users, the possible dangers of secondhand exposure still leaves many question marks.