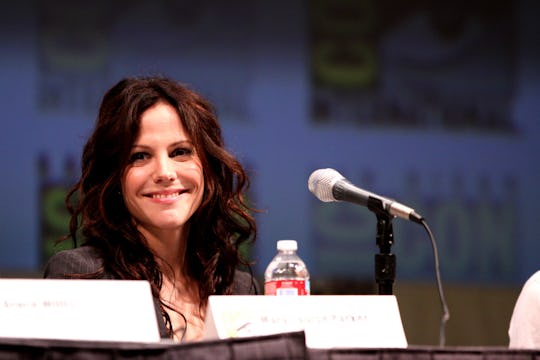 Gage Skidmore/Flickr
After Billy Crudup Left Mary Louise-Parker, She Yelled At A Cab Driver Because She Was Pregnant And Heartbroken — & I Totally Get It
Mary Louise-Parker's new memoir Dear Mr. You is out today and she finally dishes on what it was like when Billy Crudup dumped her while she was pregnant with his kid. As you may remember, Parker and Crudup dated way back from around 1996 until 2003. Then he broke up with her for Claire Danes. No one involved has talked about the love triangle for the longest time — until, for some reason, now.
Earlier this month, Danes spoke publicly about her relationship with Crudup for the first time in 12 years, saying that it was a "scary" situation.  "That was a scary thing," she told Howard Stern on his Sirius XM radio show. "That was really hard. I didn't know how to not do that. I was just in love with him. And needed to explore that and I was 24... I didn't quite know what those consequences would be."
It's never easy to be the new girlfriend. Making it even harder territory to navigate was that Mary Louise -Parker was pregnant. In her new memoir, which is awesomely written in a series of letters to people in her past, Parker doesn't name any names, but touches on some of the rawest parts of that period. Like when she flipped out on a cab driver in New York City. It's in a portion of the memoir entitled "Dear Mr. Cabdriver. " The section describes a time, way before Uber and Google Maps and a driver was making her late to a doctor's appointment. So she did what any sane, super-pregnant, and heartbroken person would do: She took out her rage on the closest male possible (no judgement here, Mary). According to Parker, the cab driver did what any New York cabbie does to an abusive passenger, he kicked her out,  saying, "I don't want you anymore."
So goes an excerpt from Parker's new memoir, obtained by Jezebel: 
No one does. My voice was shot and I barely got out. Look at me. You turned at looked, I think for the first time...My life is worse than yours in this moment. I wailed.  I am alone. Look, see? I am pregnant and alone. It hurts to even breathe. Your hand slowly went to your mouth. I'm trying to get through it but I'm by myself every night and every morning and no one, nothing helps. I'm sorry, I yelled. I can't get my shoes on anymore. Please, I know I am awful, it's been made clear but look at me please. Look at me. 
Yeesh. It's for sure an awful scene and just so you know, Parker makes amends at the end of the letter apologizing for being on a bit of a rampage. But if there's one thing that's clear, Mary Louise-Parker has summed up exactly how alienating and lonely being yourself can feel sometimes. Also in the book? How great it was to meet the little person that was making her so uncomfortable: 
Image: Gage Skidmore/Flickr