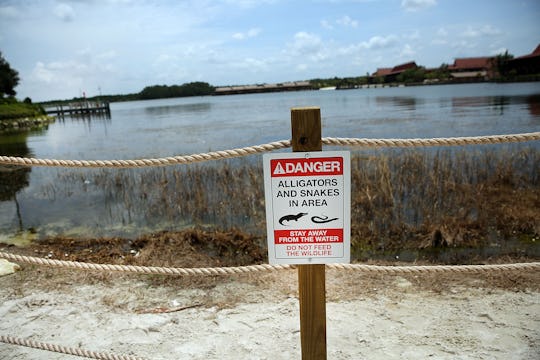 Spencer Platt/Getty Images News/Getty Images
After Donating To Lane Graves, Consider Donating To These Funds Too
A Nebraska toddler's trip to Disney World ended tragically last week when an alligator dragged him into a lake and killed him. Lane Graves was wading in about a foot of water by the Grand Floridian Resort and Spa at 9:30 p.m. ET when a 4 to 7-foot alligator attacked him. Lane's body was found intact a few hours later about 10 feet from where he was dragged into the lagoon. While the family has since set up a memorial fund in Lane's honor there are an abundance of funds to which you might consider donating after donating to Lane Graves and his family.
In the days since the accident, Disney has admitted it routinely pulls out alligators from the lagoon. Even so, the company did not have any signs warning guests about the animals, though the resort had posted "no swimming" signs. In the wake of the attack, new signs have been placed around the lagoon, warning "DANGER. ALLIGATORS AND SNAKES IN AREA. STAY AWAY FROM THE WATER. DO NOT FEED THE WILDLIFE."
The company installed temporary barriers along the lagoon and a spokesman said they are looking for more permanent solutions to keep the reptiles out.
"Everyone here at the Walt Disney World Resort is devastated by this tragic accident," the spokesperson said in a statement posted on the Disney Parks site. "Our thoughts are with the family. We are helping the family and doing everything we can to assist law enforcement."
For now, the public and support the Graves family by giving them privacy and giving to their fund if able. And in the meantime, here are three organizations working to make the world better for alligators and for parents who lose their children.
This government agency is tasked with educating people about how to interact with animals and does research on wildlife. Its alligator harvest program is considered a model for sustainable wildlife management and caps the state's alligator population through trapping and hunting.
The institute ensures the well being of animals and carefully monitors their numbers. In Florida, it uses a team of mathematicians and biologists to register alligators and to track and project population trends. The Institute also councils government agencies on wildlife issues.
There is no pain more intense than grieving the loss of your son or daughter. Compassionate friends provides families with grief support after the death of a child. The organization offers webinars and retreats for parents and siblings in grief. It has over 660 local chapters to support families around the United States.
Lane Grave's tragic death has shed a spotlight on animal control issues and child loss in the United States. Let's keep his memory alive by funding alligator research and supporting parents suffering similar losses.