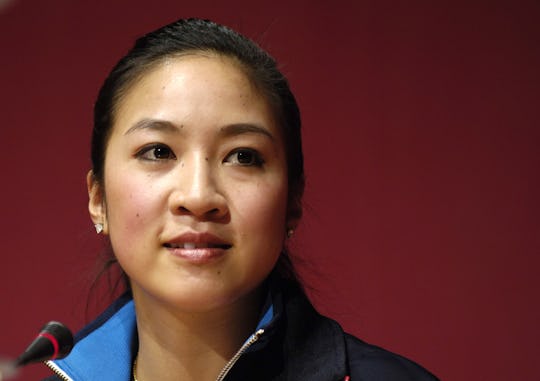 S. Levin/Getty Images Sport/Getty Images
Michelle Kwan Explains Why The Olympics Are Obsessed With Moms
At age 12, when you were still busy collecting POGS, Michelle Kwan burst onto the international figure-skating scene, going on to win her first World Championships at age 16, and competing in her first Olympics at 17 in Nagano, Japan, where she won silver. Her parents were there every step of the way, her mom spending late nights sewing the beading onto her skating costumes, because the family didn't have the money for custom outfits — in later years, Vera Wang would offer her dress-making services to the star skater.
Kwan is currently a part of Proctor & Gambles' "Thank You, Mom" campaign — the "Love Over Bias" video of which will give you Claire Danes cry-face — and accredits her own mother with part of her success. "It really hits home," she says of the campaign, "For all the athletes who are here competing, the unsung heroes and superheroes are their parents, and especially their moms."
In the commentator stands at the PyeongChang Olympics, her eyes are trained on the mothers waiting hopefully in the crowd. Kwan tells Romper that she asked France's Justine Dufour-Lapointe, who had won a silver medal in freestyle moguls, the first thing she did when she finished. "[Dufour-Lapointe] said 'I was looking for my mom!' and that embrace of the mom — that says it all," Kwan gushes.
If I do have the chance to become a mom, I'd like to be half the mom my mom was to me.
As a young skater, Kwan says she was very aware of the sacrifices her parents were making, describing herself as an "old soul." She hit the national scene as a pre-teen, and recalls, "I had to grow up fairly quickly, competing at the world level at the age of 12, and I'm very close to both my parents, so I saw the sacrifices that they were making, waking us up at 3 in the morning."
Her dream was contingent on her parents finding the money for a sport dominated by families who could afford custom skates for their children. "There were many times in my career that I had to almost give up, like when I grew out of my skates, how can my parents afford a $500 pair of skates?" she says. "Blades were $250, each ice time was $10, coaching was X amount of dollars." Her parents worked multiple jobs and long hours to ensure Kwan and her siblings had opportunities.
"My mom has been the rock of the family," Kwan says, telling Romper that "if I do have the chance to become a mom," she hopes she can "be half the mom my mom was to me."
In short, heart-eyes.
I said, like, "Iloveyoudad!" and he was like *silence*. I could see his face like, 'What do I do with that?' and he went 'I love you!' and hung up.
This year's American figure-skating superstar, Mirai Nagasu, who stuck an historic triple-axel in her PyeongChang routine, has told the Huffington Post she was inspired by Kwan growing up, noting their similar backgrounds: both are from California, and both have immigrant parents who worked restaurants to support their children's sporting aspirations. Kwan emphasizes the sacrifices of her parents, but says it wasn't until after 9/11 that she told her family she loved them out loud. It isn't that they didn't feel that way: "I know no matter what that my parents love me — they don't have to say it" she recalls. But as news of the terrorist attack reached her in Australia, thousands of miles from home, she realized the importance of saying it, of hearing it.
"I was away for a competition and I was the first person in the family to say 'I love you.' I was getting off the phone and I said, like, "Iloveyoudad!" and he was like *silence*," she tells Romper, her voice animated on the phone. "I could see his face like, 'What do I do with that?' and he went 'I love you!' and hung up." She laughs.
Then she told her mom, and then her brother. "The hardest was my brother," Kwan says. "It was not until maybe 10 years ago that he finally cracked and said it. The Kwan males are very stoic, very little emotion. They are very sensitive but not outwardly emotional."
At her peak, around the 1998 and 2002 Olympics, Kwan was known for her expressive skating, with buttery footwork and smooth leaps and spins that looked effortless. The artistry that rewarded her in the judges' scores has been de-emphasized under the new scoring system, which prioritizes difficulty. It is clear in speaking to Kwan that an emotional fluidity underpins all her work. I ask her, as a child of the '90s, which throwback song she would love to do a routine to, and she thinks for a moment, "Ooh, a Whitney Houston song, 'I Will Always Love You.' I remember being in a dorm room listening to it on a cassette tape, rewinding like" — here she sings a bar — "oh god."
Since retiring from figure-skating, where she was the most decorated U.S. skater in history, Kwan has worked for the State Department, campaigned for Hillary Clinton, and studied international relations at a graduate level. Asked about what her insights into foreign relations could offer worried parents at a point in time in which North Korea's posturing has many worried, she tells Romper, "It's a very tumultuous time," but "when you see so many countries represented [at the games], North Korea being one, and having witnessed the unified Korean team, it was like watching history. That we all are unified in this crazy time through sports," is important, she says.
I press the point, asking whether she is ultimately optimistic about the fate of the world. She laughs, skating out of the topic with a deft, "We can continue this conversation later."
When you're working a lot, rest is the first thing that goes out the door.
Kwan has said she would like to have children (she separated from her husband, Clay Pell, in 2017), and appears tuned into the mother-athletes present in PyeongChang.
"We were talking to a Polish speed skater at her fifth Olympic games and a mom of two, a 7-year-old and 2-year-old, about the challenges," Kwan tells me. "She said, 'I had to take off 18 months while I was having a baby, and then come back and be in form and the best Polish skater,' and I can only imagine."
From her own experience as an elite athlete, Kwan offers her best advice for recovery for new mothers. "It is about how you bounce back, whether from [children] or strenuous exercise," she says. "When I was an Olympian, recovery was important, making sure I got enough sleep. There were three things: make sure to push your body to the limit, eat well, and rest. Unfortunately, when you're working a lot, rest is the first thing that goes out the door."
It seems that the one thing moms and Olympians have in common is an inability to sleep — superheroes, all.
Check out Romper's new video series, Bearing The Motherload, where disagreeing parents from different sides of an issue sit down with a mediator and talk about how to support (and not judge) each other's parenting perspectives. New episodes air Mondays on Facebook.