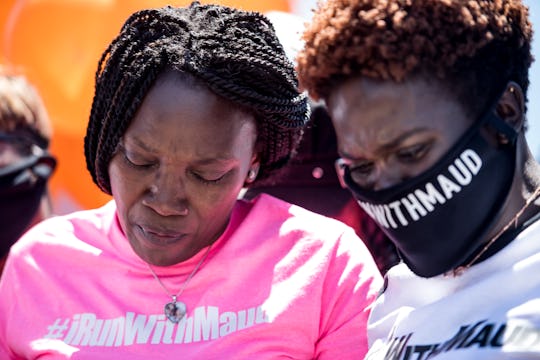 Sean Rayford/Getty Images News/Getty Images
Ahmaud Arbery's Mom Urges Georgia To "Do The Right Thing" & Pass Hate Crime Law
In a New York Times op-ed video, Ahmaud Arbery's mother called for Georgia to pass a hate crime law following the murder of her son, an unarmed 25-year-old Black man, in Brunswick. While out for a jog in February, Arbery was chased, shot, and killed by three white men who've been charged with murder. As federal prosecutors review the case to see if federal hate crime charges are warranted, Arbery's mother Wanda Cooper-Jones has pressed Georgia lawmakers to pass a hate crime bill that would place additional penalties on suspects in similar cases.
"To me, this was clearly a hate crime," Cooper-Jones said in a New York Times op-ed video. "But Georgia is one of four states in the country without a hate crime law. If Georgia had a hate crime law, Ahmaud's killers could face additional sentences for murdering my son because of the color of his skin."
Federal prosecutors began investigating Arbery's killing after it was revealed the man who'd captured the attack on camera told law enforcement officers in a May 13 interview that he'd heard one of the other two suspects refer to Arbery with a racial slur, NBC News reported. Arbery's family has maintained that he was killed because of the color of his skin.
"He was unarmed, but he was Black," Cooper-Jones said in her New York Times op-ed.
She pressed Georgia lawmakers to pass a hate crime bill, noting that doing so would send a message about how unacceptable targeting individuals because of their race is. "As we've seen in the protests about George Floyd, Ahmaud is just one of the many Black lives that has been lost due to hatred," Cooper-Jones said.
Cooper-Jones also argued that a number of crimes have been committed in Georgia that were motivated by prejudice. She cited the 2019 killing of Ronald Trey Peters, a gay man, as well as a white teenager's thwarted attack on a Black church and the spray painting of swastikas on a high school in Roswell, Georgia.
"Last year, Georgia State House moved in the right direction passing House Bill 426, which imposed harsher sentencing for hate crimes," Cooper-Jones said. "But the bill has been stalled for a year and state Senate leadership refuses to vote on it."
Georgia is one of only four states that does not have a hate crime law, meaning those who commit crimes motivated by hate or prejudice don't face additional penalties when charged. As Cooper-Jones noted, Georgia state representatives passed what's been commonly referred to as the 2019 Georgia Hate Crimes Act in March of last year. It would see more severe sentences handed down to anyone convicted of targeting a person due to their race, color, religion, national origin, sexual orientation, gender, mental disability, or physical disability. But since its passage in March 2019, the bill has since languished in Georgia's Senate.
Cooper-Jones urged Georgia's state senators to "do the right thing" and pass House Bill 426 when they reconvene June 15. "To have this law pass in the memory of Ahmaud wouldn't bring him back but it would mean so much to me that him leaving me did change something," she said.