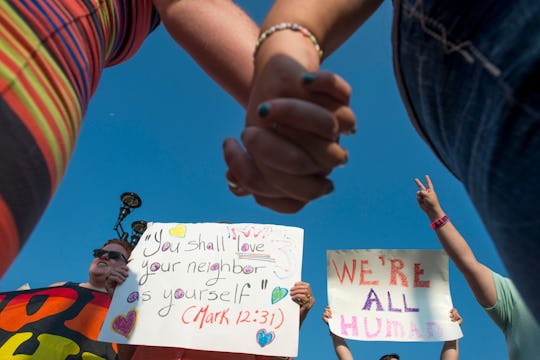 Ty Wright/Getty Images
Alabama Justice Halts Gay Marriage By Refusing To Issue Marriage Licenses To Same Sex Couples
The fight for marriage equality just got a little more complicated. On Wednesday, Alabama's chief justice halted gay marriages in his state by ordering probate judges not to issue marriage licenses for same sex couples. According to Chief Justice Roy Moore, the historic federal Supreme Court ruling last summer, which made gay marriage legal, had caused a disconnect between national and state law.
"Until further decision by the Alabama Supreme Court," Moore wrote in his ruling, "the existing orders of the Alabama Supreme Court that Alabama probate judges have a ministerial duty not to issue any marriage license contrary to the Alabama Sanctity of Marriage Amendment or the Alabama Marriage Protection Act remain in full force and effect."
The decision comes on the heels of news earlier this week that the justice's son, 25-year Caleb Moore, had plead not guilty to two separate drug charges from March 2015.
According to Birmingham CBS affiliate WIAT, Moore cited "several examples" of similar instances across the country. He added that the momentous Obergefell v. Hodges federal ruling only applied in Michigan, Kentucky, Ohio and Tennessee. "This disparity [between state and national law] affects the administration of justice in this state," Moore wrote. "[It has] confusion and uncertainty [among judges in Alabama]."
The two acts to which Moore was specifically referring define marriage as both an "inherently a unique relationship between a man and a woman." The chief justice argued that because no steps were taken to disband those measures, the Obergefell ruling was in direct contradiction to state-approved legislation. According to a report by Fusion, Moore then cited an Eighth Circuit Court of Appeals ruling in Nebraska last August which had removed any legal barriers preventing same-sex couples from marrying, in order to support his decision.
In a tweet on Wednesday, the ACLU noted that a previous federal court decision had explicitly laid the groundwork for all state officials to comply with Obergefell. "[A] federal court order from July 1, 2015 already confirms [that the] Obergefell decision binds Alabama probate judges statewide," the group wrote, tweeting a photo of the order, which in part stated that the "preliminary injunction" was in effect for "all members of the Defendant class."
While many believed the Supreme Court's Obergefell decision had finally put an end to the vicious back and forth surrounding the issue of gay marriage, for now, it seems neither side is planning on going down without a fight.
Images: Ty Wright/Getty Images