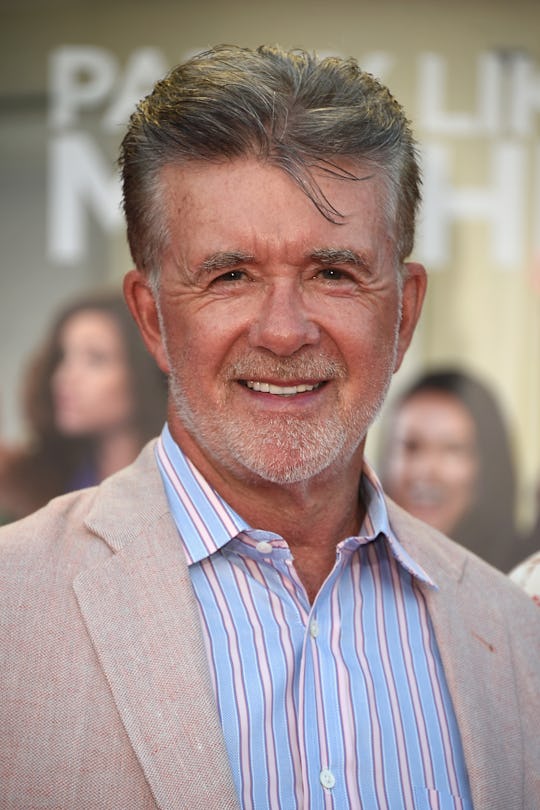 Frazer Harrison/Getty Images Entertainment/Getty Images
Alan Thicke's Cause Of Death Has Been Released
Last week, lovers of the 1980s sitcom Growing Pains collectively mourned when the show's father, Alan Thicke suddenly passed away at the age of 69. His death was unexpected and shocking and his memory will live on forever. But just one week after his death, more details are emerging. On Wednesday, Alan Thicke's cause of death was released — and after a long silence, his wife is speaking out for the first time about the loss.
Thicke died on Tuesday Dec. 13, after playing hockey with his youngest son, Carter. According to Entertainment Weekly, Thicke had been complaining about chest pains and shortly after he was taken to the hospital, he died. Original reports had stated that Thicke had died of a heart attack. Instead, the official death certificate obtained by People states that Thicke specifically died of "a ruptured aorta."
A ruptured aorta occurs when an aneurysm develops in the aorta — or the main artery of the body. According to People, Thicke died of a "standard type A dissection" — according to Mayo Clinic, this occurs when there is a tear in the aorta wall, causing bleeding along and outside the ruptured aorta. Not all aortic aneurysms are fatal. According to Entertainment Tonight, once Thicke was at the hospital, a median sternotomy was performed on him to access his heart and lungs — but Thicke did not survive.
On Sunday evening, around 300 people came together at a memorial for Thicke, including his sons, former Growing Pains costars, celebrity friends, and family members. Thicke's funeral was held in California.
Shortly after laying her husband to rest, Thicke's wife, Tanya Callau Thicke, broke her silence to People about her husband for the first time since his passing. Callau told People:
It is with gut wrenching sadness and unbelievable grief that I thank everyone from the bottom of my heart for the outpouring of love and support during this unimaginable time. Through tears and smiles our dearest of family and friends came together at our home to celebrate the life of my sweet and devoted husband Alan Thicke. Yesterday, along with my step sons and our combined extended family, we laid my beloved husband, soul mate, and the patriarch of our family to rest. We ask you respect our privacy during this time of profound mourning.
Alan Thicke will forever be remembered for his immense talent, his beloved characters, and his endearing personality. He will be missed.