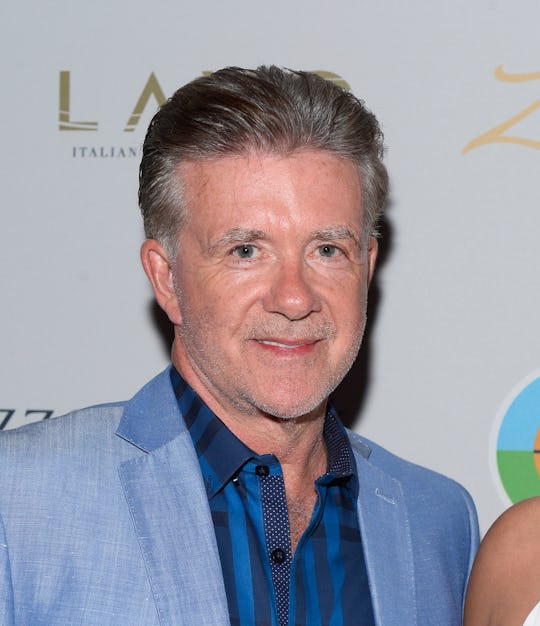 Bryan Steffy/Getty Images Entertainment/Getty Images
Alan Thicke's Net Worth Reflects His Long & Impressive Career
Growing Pains actor Alan Thicke died Tuesday from a heart attack, according to law enforcement officials who reportedly spoke to TMZ. Thicke will leave behind a legacy in TV, for sure, but he is also survived by important figures within music and TV, such his son and musician Robin Thicke, his son and actor Brennan Thicke, and his son and (another) actor Carter Thicke, according to TMZ. Thicke was known for his role as dad Jason Seaver in Growing Pains, but he also appeared on Fuller House and appeared in his own show, The Alan Thicke Show. Thus, it's no surprised that the talented actor amassed quite a fortune. Alan Thicke's net worth is reportedly about $40 million dollars, according to Celebrity Net Worth.
Thicke reportedly began his career as a game show host on a Canadian game show called First Impressions before he got into acting, according to Celebrity Net Worth. His credits on IMDb cover the categories of Music (he most notably created music for Diff'rent Strokes), Actor, Writer, Producer, Composer, and Soundtrack, making it pretty clear that he wasn't at all a one trick pony.
It's unclear just how much Thicke made on each project, but there's not doubt that much of his fortune likely came from his seven years of work on Growing Pains as dad Jason Seaver. Thicke also came back in two different Growing Pains movies and also starred in another well-loved millennial show for one episode: 7th Heaven. (Because of course.)
Many people were shocked to hear the news of Thicke's death, because there was a Tweet posted to his Twitter as recently as 2:18 p.m. Eastern Time. But many people have noted that the tweet was likely scheduled by his publicist or whoever else runs his social media account. Still, it made the blow that much harder for many of his fans:
Though many noted on Twitter that Thicke was reportedly playing hockey when he suffered the heart attack, that news has yet to be confirmed. Still, the idea would be nice, because Thicke reportedly was a lifetime NHL fan, according to Yahoo! Sports.
On Twitter, many of his fans noted that Thicke had of way of staying relevant throughout the years. He even made a guest appearance on the show Scream Queens.
But, regardless of how many current shows he did, Thicke will always be remembered for being one of TV's favorite dads. He spoke about the importance of his role as Seaver and what it did for him and his family, according to a 2010 interview with A.V. Club:
Loved it. Proud of it. Proud of what it stood for. I share the corny family values espoused on that show. Happy for the role, both, as I said, what it stood for and what it did for me and my life and my family and my career. So if that's what goes on my tombstone, I'm perfectly comfortable with it.
It was a great opportunity that made my life good and something that I can show to my 12-year-old now in reruns. Corny and dated as it is, it's still relatable, understandable, and he can look at it and say. 'Yeah, I get it. Now I see what you did before I was born.'
And it's something that Thicke's kids and their children will be able to look back on for years. His impact will never be forgotten.