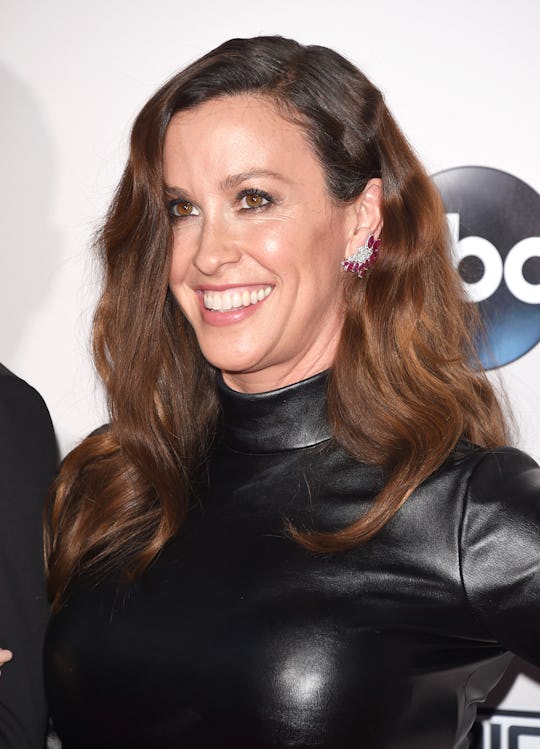 Jason Merritt/Getty Images Entertainment/Getty Images
Alanis Morissette Announced Her Baby, Along With A Cute Pic
Despite her fame ever since her breakout album Jagged Little Pill, Alanis Morissette has largely stayed out of the spotlight. But this week, Alanis Morissette announced the birth of her baby on Twitter, along with an adorable pic of the two together. Her daughter, Onyx Solace Morissette-Treadway, was born a few weeks ago on June 23, but Friday was her first public appearance. Morissette made the announcement quick and easy, writing, "she's here!" along with her name a #beyondblessed tag. This isn't Morissette's first child. She also has a 5-year-old son named Ever Imre Morissette-Treadway, who she quoted in an Instagram post on June 28th, next to an image of her, naked and pregnant in a pool.
She wrote that her son said, "you have to be extra gentle around ladies because they are the most helpful people in the world 'cause they make persons." Which is adorable, and given the timeline of Onyx's birth, means that the toddler was probably trying to be especially gentle around his newborn sister. Which is sort of adorable all around. New siblings aren't always easy to get used to.
But Morissette seems more than prepared for the challenges of parenthood. She has a column in The Guardian called "Ask Alanis," and a companion podcast. Recently, she answered a man's questions about being ready for parenthood.
Her answer to possibly not being "mature enough" to have kids or enter into a super committed relationship was spot on. She wrote, "both marriage and becoming a parent have their way of growing us up. It is just about whether we kick and scream through the process (or, ultimately, run from it), or submit to it willingly and with a relatively open mind. The choice is yours, and yours alone." Those are words to live by.
Alanis' life seems very far from her younger, Jagged Little Pill days. These days she seems all settled into family life. Her and her husband Mario "Souleye" Treadway make an annual animated video, which is either adorable or "unfollow on Facebook" worthy, depending on your sense of humor. They announced her pregnancy in one of them last year.
But she appears to be following her own advice from that Guardian column and "submitting willingly" into motherhood. In October, she told Us Weekly that she's enjoying watching Ever grow up. "We're having real bona fide philosophical conversations. About anything — about aliens, about the galaxy, about what God is, about animals. You just cross your fingers behind your back and you hope you don't blow it," she said. Winging it is always my favorite strategy, too.
By the time Onyx is asking about aliens and the galaxy, maybe Alanis can refer her to her older brother.