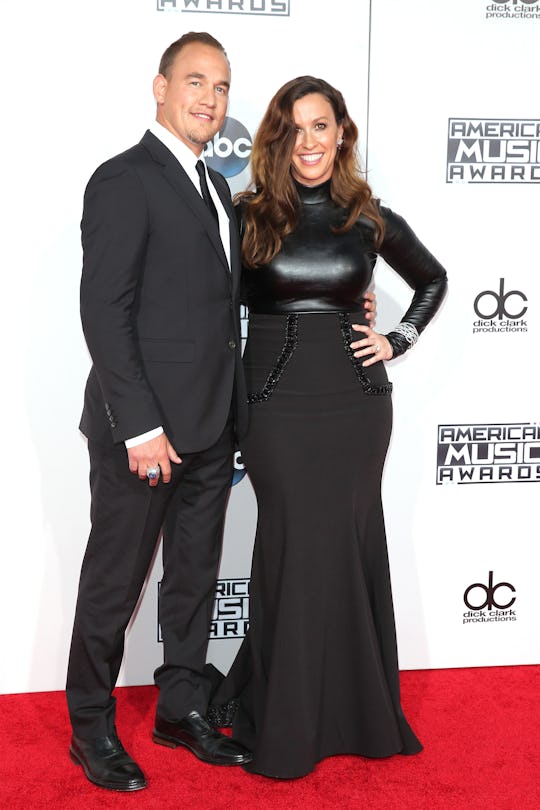 Mark Wilson/Getty Images Entertainment
Alanis Morissette Announces Her Second Pregnancy In The Cutest Way
World, get excited. Alanis Morissette is expecting her second child with rapper Mario "Souleye" Treadway, and Morissette announced her pregnancy with an animated video on Friday. The video and song tells Treadway and Morissette's story, and ends with the pair and their son, Ever, looking at an ultrasound image. Cutest thing ever? Cutest thing ever.
The project, called "Souleye + Ever + me + love = sweetness," was written and recorded in six hours in May 2010 by Morissette and Guy Sigsworth, according to Alanis Morissette's website. Artist Brendan Huza then joined up to illustrate Morissette's song (whose chorus sings "Happy Anniversary, darling") to detail their meeting, dating, wedding, birth of Ever... and the news of a new addition to the family. Yoga is an ongoing theme throughout the video.
"May this song take on ever-deepening meaning as each year goes by," Morissette wrote. I think it's safe to say that this song will now be played at about 50% of this year's weddings across North America. (It's also safe to say that I'm feeling extra single after watching that video.)
Fans are loving the video, and have responded to Morissette's Facebook post of the video with congratulations. "That was beautiful, you do know how to catch people unguarded!" wrote Leo Orjeira from Argentina, echoing probably everyone's thoughts on the surprise animation.
Morissette has been very open about her parenting style and her experience of motherhood. In her "Ask Alanis" column for The Guardian, Morissette told a struggling mother to rely on community, ask for help when she needed it, and to be realistic about the post-partum stage. "Know that it is perfectly appropriate for you to have a dusty, messy, cluttered home for a while — and your psyche may feel the same," she wrote. "Your priorities are breathtaking, and if anyone takes issue with your laundry, they are welcome to fold it for you while they make your dinner."
Morissette has also talked about the post-partum depression she had after Ever's home birth, her attachment parenting, and her views on sharing a family bed. In 2011, she also wrote about her feelings after Ever's birth and how unprepared she felt. "I remain baffled at how little I was prepared for what was to come," she wrote in a blog post, according to Us Magazine. She continued:
I had used, as usual, the I'll-rise-to-that-occasion-when-I-get-there approach to the post-child-bearing journey. So all my DVD-watching and focus went toward the birth experience itself, and how to prepare myself for that (as though I really could prepare for a Human. Being. Coming. Out. Of. My. Body).
With a 5-year-old Ever and support from fans around the world, hopefully Morissette is feeling a bit more prepared this time around. Either way, can all of her future announcements please come in the form of tear-jerking, life-affirming animated videos?