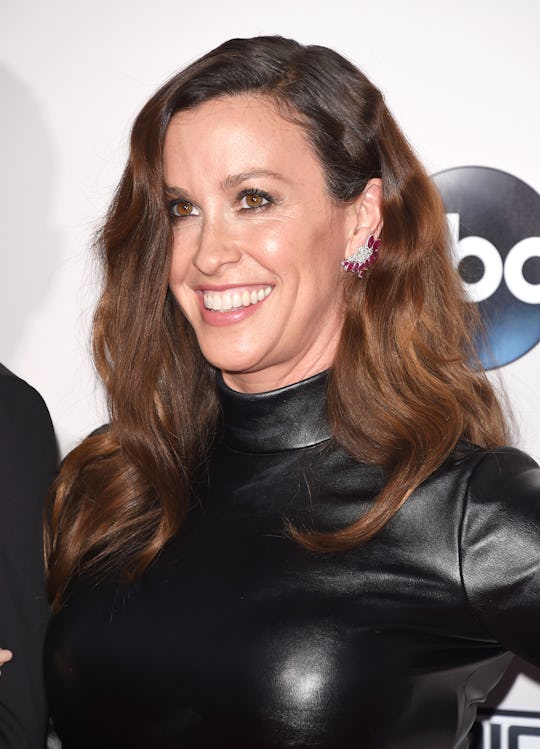 Jason Merritt/Getty Images Entertainment/Getty Images
Alanis Morissette Posts Breastfeeding Photo With Her "I Voted" Sticker, & It Is Awesome
Alanis Morissette may be a busy mom of a 5-year-old son and an infant daughter, but she didn't let that interfere with her civic duty. According to People, on Wednesday, Alanis Morissette posted a breastfeeding photo to Instagram that showed off her "I Voted" sticker, and it was pretty much the best ever. This isn't the first photo the singer has shared of her breastfeeding her 4-month-old daughter, Onyx Solace — in fact, the first photo Morissette shared after her daughter's birth was a breastfeeding pic — but it is the first time she's made a political statement while doing it. Although Morissette hasn't openly endorsed a candidate, she is clearly a big proponent of voting any way you can, and captioned the photo, "#evenwhenyoucantleavethehouse."
Although Morissette isn't actually American (she was born in Canada), according to TODAY, Morissette became a dual citizen in 2005. Not long after taking her citizenship oath in Los Angeles, she explained in a statement that "I will never renounce my Canadian citizenship," but that she "[considers herself] a Canadian-American." And for good reason: Morissette said, "America has been really great to me and I have felt welcomed since the day I came here."
It's clear that voting is important to her, but even though she hasn't spoken much about her political views, she has spoken a fair bit about her strong belief in attachment parenting and extended breastfeeding. According to The Daily Mail, in 2012, Morissette said in an interview with Good Morning America that she was more than happy to continue breastfeeding her then 17-month-old son, Ever Imre, as long as he wants. She explained, "some kids naturally stop at two, some stop at a couple of years later, it's up to the child. I will stop when he says it's time to stop."
According to Morissette, being open to extended breastfeeding is one way she felt she could "protect his safety and his well-being and his attachment," explaining that "that stage of development is a very important stage," according to the Daily Mail. But she also acknowledged that breastfeeding for as long as you'd like isn't something that all mothers get to choose, and noted that she's "in the privileged position where I have the time, the money, and the availability [to breastfeed]. That's not possible for many families."
Judging from her social media accounts, it seems that Morissette is taking the same approach with her daughter — and the singer even recently posted a sweet breastfeeding selfie in honor of World Breastfeeding Week, calling breastfeeding "oxytocin connected-with-life bliss."
But breasfeeding and voting isn't all that Morissette has been up to lately. Although she hasn't actually released an album of original material since 2012's Havoc and Bright Lights, she launched a self-help podcast called Conversations with Alanis in 2015, according to Stereogum. And, most recently, Morissette has been working on a memoir, called Perpetual Becoming, slated for a fall 2017 release, according to The Daily Mail.
Morissette's sweet family honestly seems to be so full of love, and it's so nice to see her gorgeous updates. But regardless of your take on attachment parenting, or even your take on this election, Morissette's most recent post is an important reminder that casting a vote is too crucial to opt out of. And hopefully that's a message we can all get behind.