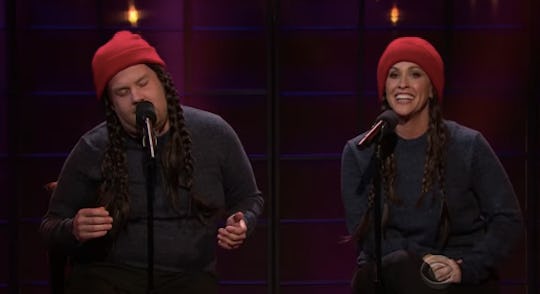 Alanis Morissette Updates "Ironic" For 2015, & Totally Nails It With One Lyric
Earlier this summer, I managed to break my iPhone 6 twice — the first time, in an unfortunate roller coaster incident, and the second time, in an unfortunate hiking incident involving an unfathomable downpour. (Silver lining: My life is fun?) So I paid for two brand-new phones, only to find out weeks after breaking my second one that Apple announced the new rose-gold iPhone. The point of this? I really relate to Alanis Morissette's "Ironic" update on The Late Late Show,  which includes the lyrics: "There's free office cake on the first day of your diet; it's like they announce a new iPhone the day after you buy it."
But that was hardly the best part of Morissette's duet with host James Corden on the late night show. (Especially because, suck it diets, cake is awesome.) Morissette, who is celebrating the 20th anniversary of Jagged Little Pill and releasing a new collector's edition of the album, and Corden included oh-so-relevant lines in their remake like:
"An old friend sends you a Facebook request. You only find out they're racist after you accept."
And:
"It's like you're first class on a Southwest flight, then you realize that every seat is the same."
And:
"It's like swiping left on your future soulmate." 
But the updated "Ironic" also happened to have a total mic drop moment when Morissette sang the following line:
"It's 10,000 male late night hosts, when all you want is just one woman, seriously."
Hell yes. 
And, for those of you sticklers out there, Morissette already beat you to it — before you complain, one of the song's lines is: "It's singing 'Ironic,' but there are no ironies."