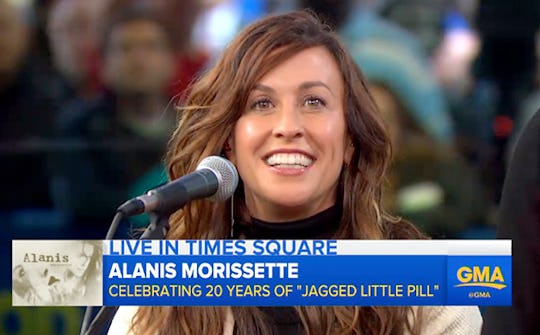 Alanis Morissette's "You Learn" Performance On GMA Proves She's Just As Badass As You Remember — VIDEO
For anyone who grew up in the '90s, there are a few key things that defined our youths. Gelly roll pens, butterfly clips, Blueberry iMacs... and, of course, 1995's Jagged Little Pill from Alanis Morissette. (Yes, we all thought with shock at the time, that Morissette from You Can't Do That On Television.) Whether or not you ever experienced a break-up (or, even love or like) when you lip-synced along with "You Oughta Know," or whether or not you knew what that "69" lyric meant in "Right Through You," it's undeniable that Jagged Little Pill shaped you. Which is why it was still nothing but a thrill to watch Alanis Morissette perform "You Learn" on Good Morning America to celebrate the 20th anniversary of the album's release. 
And that's considering the fact that I've not only listened to not only the original album on Spotify more times than I'd like to admit, but the acoustic Jagged Little Pill released in 2015 as well. And, what do you know? In honor of the 20th anniversary, Morissette is releasing another collection, this time with concert recordings and never-before-heard demos. But, hey, I'm a sucker for the '90s — if I'm willing to buy a Surge during its comeback, you can most definitely believe I'll be picking up Morissette's collector's edition, no matter how many times I've heard her hits.  
Especially since Morissette's voice is just as flawless and gritty as it was back in the days of Shark Bites and scrunchies. How can you not get goosebumps listening to Morissette's hit, if she's still unwilling to admit that "You Oughta Know" was about a certain Uncle Joey and thinks that "Perfect" was the best song on her album? (We all can admit to skipping it every time it came on our Discmans, right?)
Watch her performance here, and remember why you're still mad at Ryan Reynolds after all these years:
Image: ABC