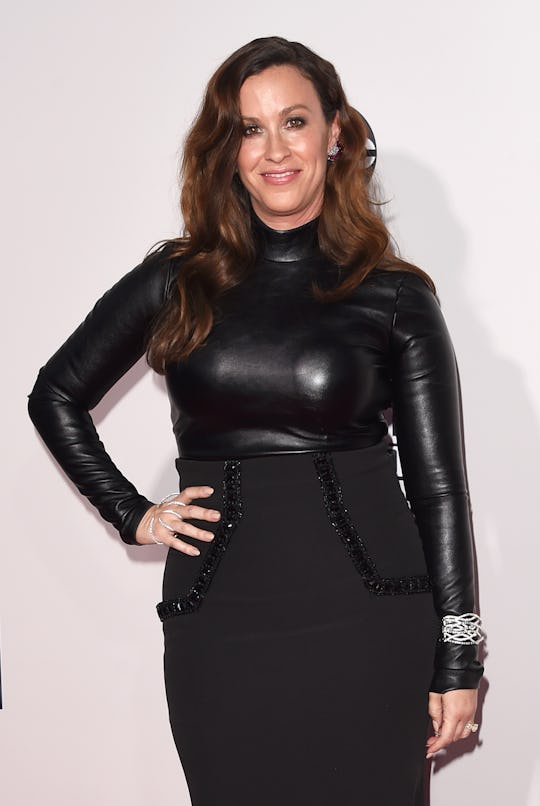 Jason Merritt/Getty Images Entertainment/Getty Images
Alanis Morrissette's Breastfeeding Photo Is Totally In Line With Her Beliefs
In honor of August being National Breastfeeding Awareness Month and the first week being National Breastfeeding Week, Alanis Morissette posted a photo of herself breastfeeding her daughter, Onyx Solace. As a mother-of-two, Morissette has made a name for herself as an honest and open voice into motherhood. Along with sharing multiple photos of herself breastfeeding, she is also a self-proclaimed "attachment mom" who has opened up about her struggles with postpartum depression.
The recent breastfeeding post is a throwback of now-two-year-old Onyx Solace eating while she was very small indeed. Morissette captioned the photo, "happy #worldbreastfeedingweek ❤️❤️❤️" and it included the other members of her family, husband Mario "Souleye" Treadway and their 7-year-old son, Ever Imre, seated on either side of her. In November of 2016, the mom posted a similar photo of herself and baby Onyx, who was four months old at the time, according to People. That photo showed her with an "I Voted" sticker on her breast.
National Breastfeeding Awareness Month is a campaign funded by he U.S. Department of Health and Human Services, in the hopes of empowering "women to commit to breastfeeding by highlighting new research" on the benefits of breastfeeding, according to Fit Pregnancy, including the fact that breastfed babies are" less likely to develop ear infections, diarrhea and respiratory illnesses, and may be less likely to develop childhood obesity." Morissette's participation in the campaign is not surprising, considering her stance on breastfeeding and attachment parenting.
In a post on her personal blog, Morissette detailed the numerous benefits of breastfeeding for both mother and baby:
We have years of exhaustive research that extolls the physiological and psychological virtues of breastfeeding, skin-on-skin touch, proximity, object constancy and consistency. Science, psychologists and nutritionists alike support its benefits. Interestingly, for babies, it also provides needed protein, nutrients and antibodies that promote better immune systems.
In the same post, she expressed her intention to breastfeed her son until he decides to cease nursing on his own:
When a child is used to breastfeeding, there is no quicker way to soothe their nervous systems than by cradling them and offering what they have equated with peace and connection since birth. The primary reason for breastfeeding into toddlerhood is to maintain that consistent connection, health, and sense of well-being (frankly, in both the child AND the mother) until, optimally, they naturally wean.
Along with discussing breastfeeding in a frank and honest nature, Morissette has also opened up about her struggles with postpartum depression. She told People in 2017 that it hit her hard after she had both her son and daughter. "There are days I'm debilitated to the point where I can barely move," she said. "As a kid, I imagined having children and being with an amazing partner. This is a whole other wrench I didn't anticipate," she said at the time." She went on to explain that it impacts her life in a big way:
It's very isolating. I'm used to being the Rock of Gibraltar, providing, protecting, and maneuvering. It had me question everything. I've known myself to be a really incredible decision-maker and a leader that people can rely on. [Now] I can barely decide what to eat for dinner.
It would seem that motherhood has touched every aspect of Morissette's life. She wrote an article for The Guardian that expanded on how "both marriage and becoming a parent have their way of growing us up." Her secret to success? A "deep personal commitment to growing and healing," both alone and together with your partner. That commitment is sure to carry her through the many trials and tribulations that come with raising a family — breastfeeding included.