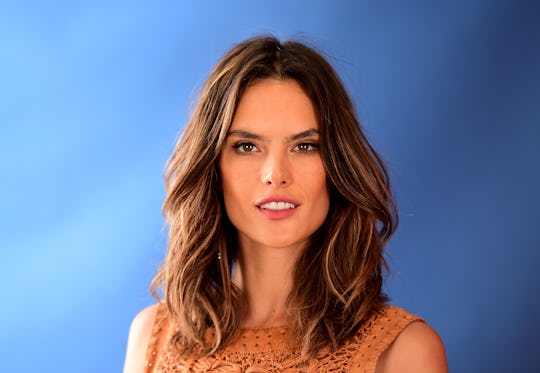 Harry How/Getty Images Sport/Getty Images
Alessandra Ambrosio Walks At Rio Closing Ceremony & Looks Amazing Doing It
The 2016 Rio Olympics had a few familiar faces during Sunday night's closing ceremonies, and one of those stars was Brazilian supermodel Alessandra Ambrósio, who walked at Rio's closing ceremony and looked absolutely stunning doing it. The model made a brief appearance during the ceremony's tribute to Carnival dancing in a traditional Carnival costume. Despite her quick time on camera, Ambriósio made a huge impact during the final night of The Games.
This is not surprising, given the supermodel's fame. According to her official website, Ambrósio came to the United States in the late 1990s to model and has been featured on countless magazine covers, including that of Vogue and Rolling Stone. She's also a face of Victoria's Secret, and was the first ambassador of the company's PINK line. As if that wasn't enough, you might have recognized by Ambrósio's several television appearances, like on How I Met Your Mother and Gossip Girl.
Her website claimed she was part of the "Brazilian invasion" of models, which included Giselle Bündchen, who also made a memorable appearance during Rio's opening ceremony, where she walked down a long runway and received cheers from the crowd for around a half hour. As it was her final runway appearance of her career, she certainly went out with a bang.
It made sense, then, that another supermodel would appear during the closing ceremony to round out the games. Although Ambrósio was really only seen during Rio's closing, she was enjoying herself throughout the games. According to People, Ambroósio and fellow model Adriana Lima stayed in penthouse apartment Airbnbs. The two also spent some time drinking out of coconuts with Ryan Seacrest and teaching Ryan Lochte how to speak Portuguese, which may be fun depending on how you feel about the Ryans.
Ambrósio wasn't just having fun, though. Vogue reported that she, along with former Calvin Klein designer and fellow Brazilian Francisco Costa, raised awareness to help Brazil's poor. Both attended the launch of the Brazil Foundation's #TeamRio campaign, which pledged to raise money for local community projects. This proved that Alessandra Ambrósio can not only look amazing during Rio's closing ceremony, but help the people of the city and country that launched her to fame.