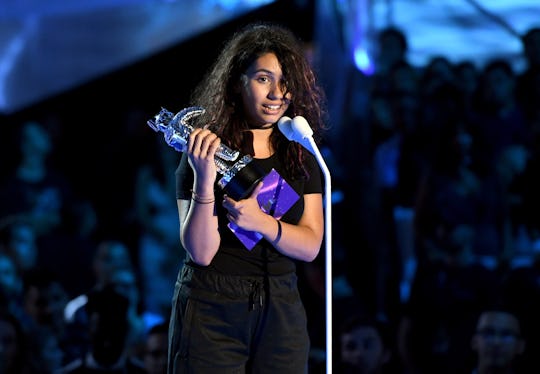 Kevin Winter/Getty Images Entertainment/Getty Images
Alessia Cara's No-Makeup Look At The VMAs Makes A Beautiful Statement
It turns out that showing up bare-faced at the Video Music Awards was more than just a passing trend, because on Sunday, Alessia Cara wore no makeup at the VMAs for the second year in a row. This wasn't just an issue of oversleeping, either; Cara made a deliberate choice, for a very important reason. Her casual clothing, natural hairstyle and lack of cosmetics were there to amplify the message of her song, "Scars to Your Beautiful," which she's vowed never to perform or even discuss while wearing makeup.
"We all look at ourselves in the mirror and think, I hate this, I wish that were different," Cara told Glamour last year. "From something minor like, 'I have a pimple today,' to something major like, 'I don't want to live anymore because I don't think I'm good enough. In 'Scars,' I wanted to tell people, 'There isn't one way to look beautiful — you are beautiful, and it's the world that needs to change.'" Cara was teased as a child for having frizzy hair, she said, and straightening caused it to fall out in large patches. "Even now, I struggle with it ... I don't really care anymore. I just let my hair dry naturally; I don't hide it."
The accompanying video, for which Cara also goes makeup-free, features vignettes of real people who have overcome their struggles with not feeling conventionally attractive.
It's a rare thing to see in Hollywood, which is what makes Cara's statement so powerful. While there is nothing wrong with people wearing makeup — the idea of makeup is fun, and something that people, especially in this industry, play with a lot to evoke a certain look — it is refreshing to see a young woman with over 1 million Instagram followers take to things in a bare way. We live in a world of filters, and photo-correcting apps, and using her influence to send the message that beauty can be found in everything, especially things that are oft considered flaws, is so important.
It still feels silly that we need to congratulate and thank women for taking such a raw approach to beauty. But, because of the superficial world we live in, these small movements — like accepting your true and natural beauty and imperfections — can speak louder to a generation that needs to hear it the most. So, like Alicia Keys last year and Cara this year, there is hope that women in the future will lean into their natural beauty and be proud of the scars that make them beautiful.