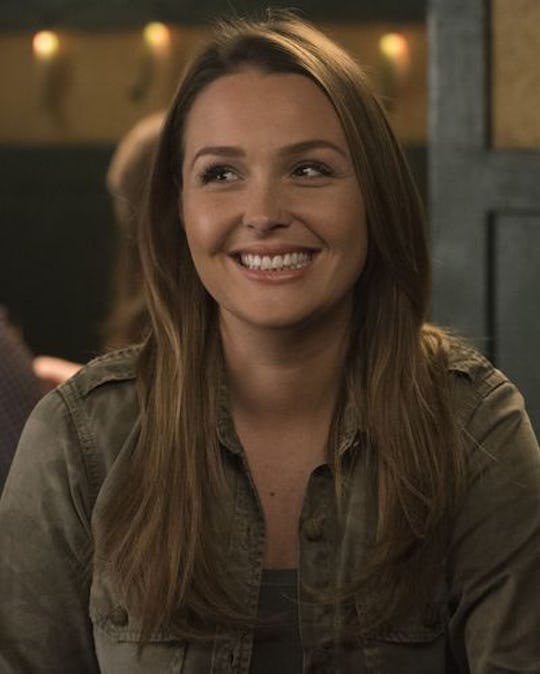 Mitch Haaseth/ABC
Alex & Jo Took A Big Step In Their Relationship On 'Grey's Anatomy'
Wedding bells are ringing in Seattle, Washington! After years of dating and drama, Alex and Jo are engaged on Grey's Anatomy and fans can't wait to see this wedding because it's long overdue. Ever since Jo first appeared on Grey's back in Season 9, there was a clear spark between her and Alex. However, since Alex felt the need to sleep through most of Jo's intern class, she was, of course, wary of being with him herself. Thus began a friendship, in which the too bonded over the struggles they faced when they were children, until eventually they both realized what they felt for each other was much deeper than just friendship.
Still, it was never smooth sailing for Jo and Alex's relationship. They've gotten into a number of disagreements over the years, including fighting over how close Alex and Meredith are, but their relationship really came to a head when Jo refused to marry Alex when he proposed. Fans later found out that she declined his offer because she was actually already married to the abusive Paul Stadler. At the time, though, seeing Jo walk away from Alex was truly devastating, because it seemed like Alex's happily ever after was finally going to begin.
Instead, Jo got drunk and confessed to DeLuca why she couldn't marry Alex, while also taking off her clothes to go to bed. Then Alex walked in, assumed the worst, and beat DeLuca to a pulp, and, well, you pretty much know the rest by now. The point is Alex and Jo broke up for real and some fans even worried they might not ever recover from what Alex did. Thankfully, that wasn't the case.
Instead, the pair eventually reconciled and moved back in with each other, and though they've had some bumps in the road since then, they've finally made it to the point where they're both ready to get married, but at the start of Thursday's episode, it surely didn't look that way.
Jo revealed to Alex that she was applying to fellowships all over the country, which didn't make him happy at all, since he naturally wants her to stay in Seattle with him. Even though Jo explained that she was merely excited about the freedom to move around and not have to stay in one place anymore, Alex countered that argument by wondering why he wasn't enough of a reason for her to stay and he didn't realize the fear of her ex was the only thing keeping her around.
In the end, Jo realized that she's been running away practically her whole life, but with Alex she didn't really want to run anymore. So when Alex came home he was greeted by a room filled with candles and Jo. Honestly, it gave me serious Monica and Chandler proposal vibes, but maybe that was just me.
Anyway, before Jo could really even say what she wanted to say, Alex went searching for the engagement ring he'd gotten for Jo so long ago, not even realizing that she already had it on her hand. She then got her knees and told Alex, "I never want to go anywhere without you. You are my home and you are my heart." Then she proposed, and Alex perfectly kissed her, before actually saying yes. And then Jolex fans everywhere rejoiced because this moment was so long overdue.
So now after so many trials and tribulations, Jo and Alex are finally engaged. Now here's hoping they actually make it down the aisle. As much as I would love to see a Jolex wedding, this is still Grey's, and though there's certainly been great weddings on the show, there's also been a number of train wrecks. Let's cross our fingers Jo and Alex's wedding falls into the former category.
Check out Romper's new video series, Romper's Doula Diaries:
Watch full episodes of Romper's Doula Diaries on Facebook Watch.