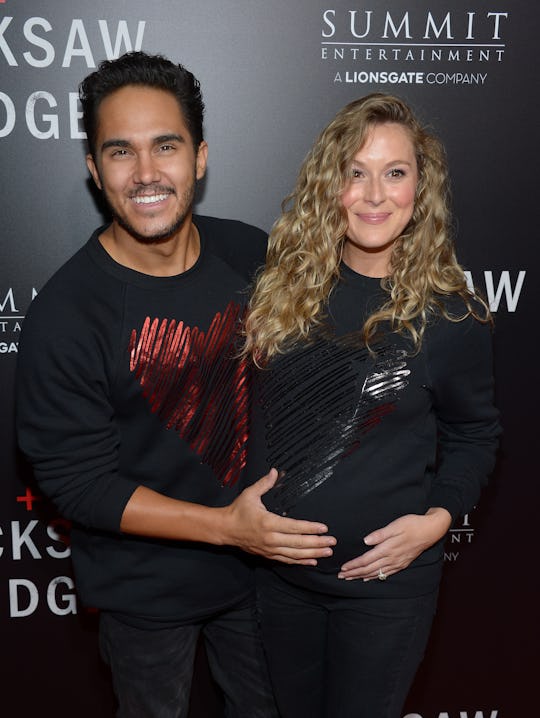 Matt Winkelmeyer/Getty Images Entertainment/Getty Images
Alexa Penavega Gives Birth To A Baby Boy & Fans Could Not Be Happier
There has never been a happier pregnant woman on Instagram than actress Alexa PenaVega and husband actor Carlos PenaVega. The adorable couple has been consistently sharing photos of her bump day after day with Instagram followers. But her followers will now have to get used to seeing something new — because Alexa PenaVega gave birth to a baby boy on Wednesday, according to People, and fans on Twitter could not be happier. Seriously, the fans reactions are so cute.
According to People, the couple's representative confirmed on Friday that Alexa brought a healthy baby boy into the world by the name of Ocean King PenaVega. A seriously powerful, beautiful name for what is sure to be a beautiful baby boy. The PenaVegas are not shy about sharing their lives with fans. Over the course of the past nine months both Alexa and Carlos have been anticipating the birth of their son through their social media accounts and have been video blogging their every day lives on their Youtube channel, LexLovesLos. On their Youtube channel, Alexa and Carlos share the private moments that fans normally would not get to see. Alexa has even been posting incredibly honest vlogs about her pregnancy, discussing the emotions and symptoms while being pregnant. Therefore, their son's birth is so special to fans who have kept up with the couple every step of the way.
Because they've been so open about all of the steps of their pregnancy, the PenaVegas shared the name of their son early on in the pregnancy, shortly after learning about his gender. This was a refreshing change compared to most celebrities who often don't release those details at all. With Alexa sharing every emotion throughout her pregnancy, fans surely felt more connected to the celebrity. It could not be clearer how excited fans are than on Twitter, where they shared their congratulations to the couple:
"I love you guys," Alexa told fans in her latest pregnancy vlog, posted to Youtube a few days before giving birth to her son. "I feel like I'm on cloud nine because this journey has been super beautiful and amazing and you guys have just been great to have along on the way."
Since Alexa and Carlos put so much of their lives on Youtube, will baby Ocean's be on there as well? Fans might be in for a treat very soon. According to Alexa's last video, while fans won't be able to get up close and personal, they will "definitely be along for the ride."
Congratulations to the new family!