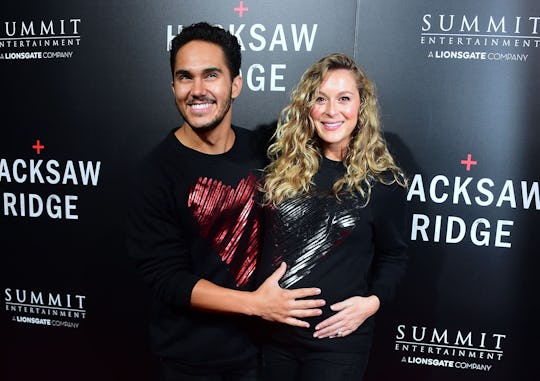 FREDERIC J. BROWN/AFP/Getty Images
Alexa PenaVega Shares First Photo Of Son Ocean & It Will Definitely Melt Your Heart
Alexa PenaVega made a big announcement on Saturday. The actress revealed she had given birth to her first child with her husband, fellow actor Carlos PenaVega. The new bundle of joy weighed 8.6 pounds and first said hello to the world on Wednesday, Dec. 7. The PenaVegas kept their child's birth off of social media until they were able to bring him home a few days later. The proud parents finally shared the first photo of son Ocean on Instagram recently, though — and no matter who you are, it will definitely melt your heart.
Alexa has been open with her fans on social media throughout her pregnancy. Fans followed excitedly as she shared cute, funny photos of her growing bump over the past the 9 months. The actress even revealed her son's name on social media before he was born. In her last Instagram post before giving birth, she wrote "the holidays are about to get so much better with Ocean" while baring her pregnant belly. Her son arrived just in time to make the holidays unbelievably special. Alexa posted a gorgeous black and white photo of her newborn lying against her chest to her Instagram account on Saturday, and I'm not crying, you're crying.
Her husband also adorably shared photos of Alexa and their son following his birth. He captioned a sweet photo of the three of them "the moment life changed forever."
Like his wife, Carlos has been open about sharing this journey with fans on social media. He often posted photos of his wife with captions commending her on her strength and beauty. The couple attended the premiere for the film Hacksaw Ridge and Carlos posted a photo of them, writing "this woman is so strong and so determined. She's tough, but centered with love. You are going to be the best mommy for our little man."
The couple has known they were going to name their first child Ocean King since August. They announced they would be having a boy on Instagram, and shared the meaning behind their chosen moniker. "God called the dry ground 'land' and the water the 'seas.' And God saw that it was good," Alexa wrote in her caption, referring to the Bible verse Genesis 1:10. "That is why we went with Ocean. And he is a son of the one true 'King.' For us it has a beautiful biblical meaning."
We're so glad that both baby Ocean and his mommy are happy and healthy. Hopefully this beautiful, new family continues to share their journey with us. Congratulations, Alexa and Carlos!