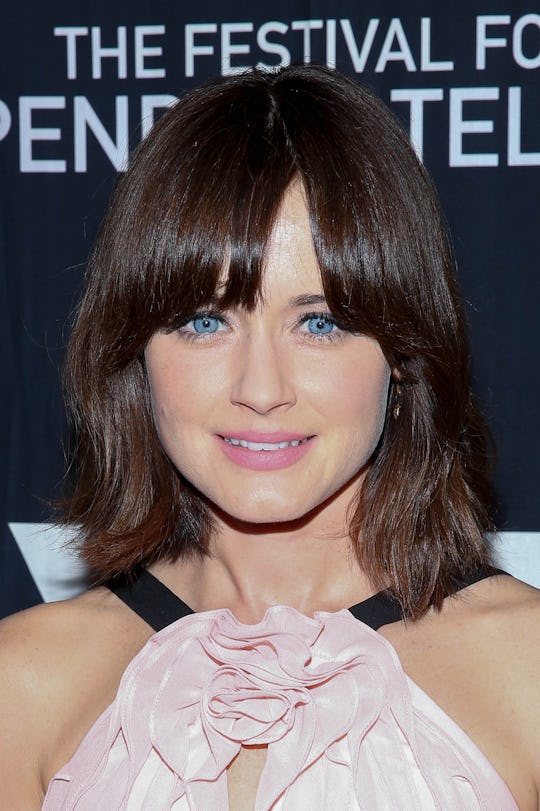 Rob Kim/Getty Images Entertainment/Getty Images
Alexis Bledel Is A Mom & It's The Best Surprise Ever
It's a boy! According to several reports (and the words of co-star Scott Patterson), Gilmore Girls alum Alexis Bledel is officially a mom — and it's arguably one of biggest celebrity baby surprises in a long time. The little one, whose name has yet to be released, is Bledel and husband Vincent Kartheiser's first child.
In an interview with Glamour this week, Patterson, who's been working side by side with Bledel on the upcoming Gilmore Girls Netflix reboot, unintentionally spilled the beans, saying that the actress had bonded with him over parenting advice on set.
"She's really blossomed as a woman and now she's a proud new mother and married and happy," Patterson said. "We're comparing notes because my son is about a year and a half older than her young son. I'm showing her photos and videos and what to expect. We're just really enjoying each other's company."
The news comes after months of speculation among the Gilmore Girls fandom, during which fans claimed Bledel had secretly been pregnant. Those rumors were largely quashed after the actress showed up to the SAG awards red carpet in January this year with her husband, sans baby bump. Now it seems Gilmore fans were right all along.
Already, the GG rumor mill is in a frenzy, with fans estimating the infants age at around 6 months.
"Alexis Bledel had a baby. I've been a grandmother for over 6 months and I didn't know," one Twitter user joked, referring to the actress' supposed December delivery. "Thoughts?"
Other excited fans immediately began questioning whether the reportedly recent birth meant Rory Gilmore, Bledel's character in the beloved Gilmore Girls series, would be pregnant in the upcoming Netflix reboot, given that the actress had spent the previous months filming. "Wait Alexis Bledel just had a baby," one user tweeted. "Are you telling me Rory Gilmore is going to be pregnant in the revival?!"
For Bledel, motherhood has apparently only made the perpetually sunny actress even more adorable, according to Patterson.
"It was great to see her ... I remember her as an 18-year-old kid, fresh out of college coming into Hollywood and being a little overwhelmed," Patterson told Glamour. "She's just the most likeable, intelligent person and adorable human being. She hasn't changed at all."
Bledel of course isn't the only celebrity of late to drop surprise baby news on fans; Most recently, actress Eva Mendes and partner Ryan Gosling welcomed their second child, a little girl by the name of Amada Lee Gosling, just weeks after fans discovered that Mendes was pregnant. (Both actors have maintained a low-key family life for years, in order to protect their two daughters' privacy.)
While Bledel and Kartheiser's news may come as a bit of a shock to the Gilmore Girls fandom (and pretty much everyone else), there's no doubt in anyone's mind that the now-family of three is anything but overjoyed.