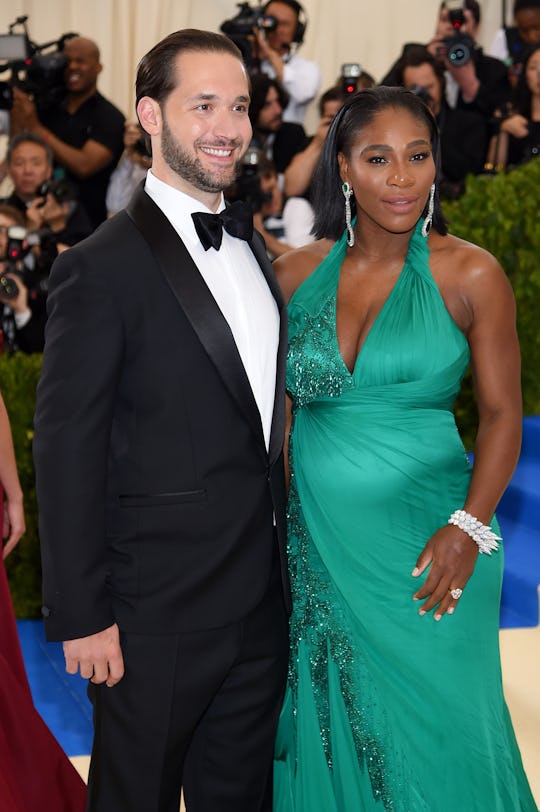 Dimitrios Kambouris/Getty Images Entertainment/Getty Images
Alexis Ohanian Bought Billboards To Welcome Serena Williams Back To Tennis, Like Any Dad Would
After giving birth, it's incredibly hard for a woman to just jump back into the work force, especially if you're a grand slam tennis champion and the greatest of all time. But luckily, Serena Williams' support system made sure she was prepared. Williams is returning to play her first tournament after giving birth in September — the last time she played was at the 2017 Australian Open, which she won while eight weeks pregnant, of course. And, while she's on her way to the BNP Paribas Open in Indian Wells, California, next week, she can check out how her husband, Alexis Ohanian, set up four billboards along the Palm Springs highway to make her feel loved and supported, according to E!
The Reddit cofounder designed the series of billboards starring the athlete and their 5-month-old daughter, Alexis Jr., and they read: "Greatest momma of all time. Serena Williams G.M.O.A.T. - Alexis Jr + Sr." Of course, fans of the athlete and her family are absolutely loving it.
"No, but seriously. Very cool Dad'ing there, buddy. Olympia and Serena are both blessed to have you. You're an incredible role model for men everywhere. Keep it up!" one Twitter user wrote. Another wrote, "Are there anymore Alexis Ohanians somewhere ? #askingformyself?" One said, "This is exactly the sort of thing wealthy people should be blowing their money on." And one asked, "Best husband of all time?"
Pretty much, yes — he is the best husband of all time.
"These just went up on alongside I-10 into Palm Springs," Ohanian captioned the pictures of the advertisements on his Twitter. "@olympiaohanian & I wanted to welcome her back to tennis. Designed them myself, with some help from Jr. #GMOAT."
Williams, of course, was touched by her family's gesture just as much as her fans were.
"Literally am crying," she wrote in the comments section. "This is so sweet. I love you."
Williams' return to tennis is an emotional one following her near-death experience giving birth to their daughter. She endured major health complications and "almost died" after "her heart rate plummeted to dangerously low levels during contractions, causing doctors to perform an emergency Cesarean section," People reported. While her surgery went well, she battled a pulmonary embolism, a condition in which one or more arteries in the lungs becomes blocked by a blood clot, for six days. It led to multiple more surgeries and a whole lot of additional medical troubles for the 36-year-old new mom who thought she might never play tennis again.
"First my C-section wound popped open due to the intense coughing I endured as a result of the embolism," Williams explained, according to The Guardian. Then the doctors found a large hematoma, a swelling of clotted blood, in her abdomen, and then she returned to the operating room again for a procedure that prevented clots from traveling to her lungs.
It was quite the long journey, but everyone always knew just how tough Williams is. And now she and her family are happy and healthy, and she's getting back to work. Of course, fans are happy to see the 23-time grand slam singles champion back in action, too.
Meanwhile, Ohanian is putting all other husbands and partners to shame with his unparalleled surprises. Most men just leave Sticky notes with mostly illegible sweet nothings scribbled on them — if that. Maybe they'll think to have their partners' favorite dinner cooked or plan a surprise date night. Not Ohanian. He designed the advertisements with AdQuick, "a business he backs through his investment company Initialized Capital," reported E!.
So, yes, pregnant women can be star athletes and, yes, venture capitalists can be romantic.
Editor's note: After publication, we discovered this article did not meet our editorial standards. There were portions that did not correctly attribute another source. It has been updated to meet our standards.
Check out Romper's new video series, Bearing The Motherload, where disagreeing parents from different sides of an issue sit down with a mediator and talk about how to support (and not judge) each other's parenting perspectives. New episodes air Mondays on Facebook.