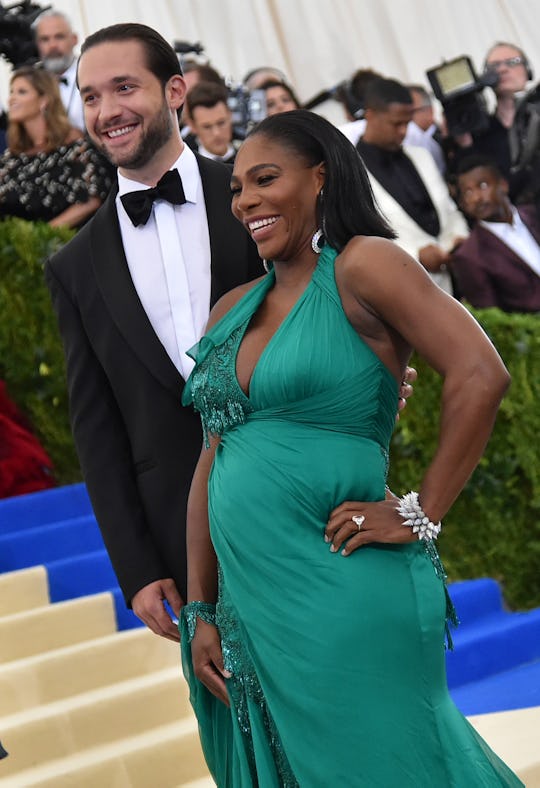 Mike Coppola/Getty Images Entertainment/Getty Images
Alexis Ohanian Calls His Daughter His "Legacy," & It Will Make You A Puddle Of Tears
On Sept. 1, Alexis Ohanian and Serena Williams welcomed their first child, Alexis Olympia Ohanian Jr., into the world. Ever since Alexis' birth, Ohanian has taken to social media to express his joy at becoming a dad, and it's clear he couldn't be more thrilled with his new role. On Sunday, Ohanian shared an especially poignant quote about parenthood, and many parents will be able to relate to his emotional message.
Before Ohanian became a father, he was best known for co-founding Reddit, a popular social news website and forum. Ohanian's involvement with Reddit has earned him a net worth of $9 million, according to Celebrity Net Worth, and he is well-regarded and celebrated in the tech industry. Although it's abundantly clear that Ohanian is a very successful guy, his Instagram post on Sunday revealed that Alexis is the accomplishment he's most proud of. In fact, Ohanian referred to Alexis as his true "legacy," according to the International Business Times. Sorry to break the news, Redditors.
Ohanian wrote, according to Instagram:
Dad life is the greatest. Entrepreneurship is all-consuming, it's sleepless, we call our startups our "babies," we are ridiculously proud of them, and we pour all of ourselves into them -- but she is already all that and more, she is my legacy.
If you're a parent, Ohanian's message probably hits all the right notes for you, and there's a strong possibility it made you tear up. You don't have to be a tech giant or have millions in the bank to emotionally relate to what Ohanian described in his message — children are often the most prized accomplishments of their parents, and this is a beautiful and moving concept. For many parents, there isn't any pinnacle of success that could trump the value of their kids, and realizing that your legacy lies in your children is one of the most profound things a parent can experience. Additionally, it's incredibly special that Ohanian is sharing his transformation from successful tech entrepreneur to over-the-moon dad with his fans — celebrities are typically not this open and honest on social media.
For longtime fans of Ohanian, however, his poignant post about parenthood shouldn't be too surprising. A few months before Alexis made her debut, Ohanian was combing through Reddit for dad-to-be tips, proving that he was more than ready to put his busy career on hold for Alexis.
Ohanian said of his "favorite tip," according to Today:
My favorite (tip) is to sleep with a blanket for like a month before the due date so you get your dad scent all over it, and then wrap the baby in it once it shows up, so they're not just immediately bonding with mom, but also getting a bit of dad.
If that quote isn't sweet enough for you, a source said of Ohanian's dad skills, according to Celebrity Insider:
Alexis is such a supportive boyfriend; it's no question that Serena and her man will stay together forever. He's such a sweetheart. Serena is always talking about how good he is with their new baby.
Yep, it's safe to say Ohanian is leading the pack of celebrity dads at the moment. Alexis is one lucky girl, and it's wonderful that Williams has such a caring and thoughtful partner to co-parent with.
As for the future of Ohanian's career, it's likely that he'll still continue to be an outspoken and active presence in the tech community despite the fact this his priorities have shifted since the birth of Alexis. It's important to note that just because Ohanian has found his "legacy" in Alexis, it doesn't mean he's ready to give up his work — all that Ohanian's sweet post means is that he's now seeing life through the lens of a parent.
Watch Romper's new video series, Romper's Doula Diaries:
Check out the entire Romper's Doula Diaries series and other videos on Facebook and the Bustle app across Apple TV, Roku, and Amazon Fire TV.