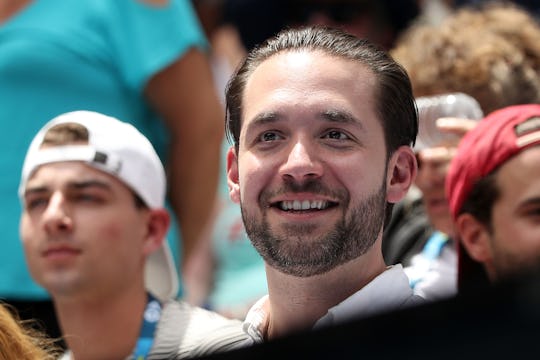 Mark Kolbe/Getty Images Sport/Getty Images
Alexis Ohanian's Rare, Sweet Comments About His Fiancée
When Serena Williams first got engaged to Alexis Ohanian, some people had to ask — who in the world is Alexis Ohanian? As it turns out, he's a pretty powerful man. But the Reddit co-founder is also quite the tennis fan and had been dating tennis star Williams since 2015. It's clear that Alexis Ohanian and Serena Williams are very much in love. Yet, Alexis Ohanian quotes about Serena Williams are still few and far between.
During an interview with CBS' Gayle King at TED 2017, Williams doted on her future husband, telling King, "He's very loving and he's very kind. He's very considerate." Williams' words about Ohanian are so incredibly sweet and you can tell how much she loves him. In fact, according to Business Insider, Williams told King that she hadn't thought of herself as the "marrying type of person" until she met Ohanian — at that point, everything changed.
While Williams' words say a lot about their relationship, unfortunately, Ohanian hasn't said much about his fiancée at all, preferring to keep things private — at least in as far as the media is concerned. Instead of giving interviews and writing essays about his love for his her, Ohanian takes to his own social media accounts, where he tends to talk about Williams in his Instagram captions, on the rare occasion he does share a snapshot of their relationship.
So sure, maybe Ohanian's subtle way of speaking about Williams is less in-your-face than other celebrities are with their own relationships, but that subtlety still shows that Ohanian cares for her — he just likes to maintain a level of privacy in their relationship.
Still, from time to time, fans of the couple get a peek into their life together. After Williams announced their engagement on Reddit three months ago, Ohanian responded with the sweetest words ever. "You made me the happiest man on the planet," Ohanian said of his fiancée. And judging by his Instagram captions, Ohanian seems to think very highly of Williams. In a pregnancy announcement on his Instagram account, Ohanian told Williams, "You amaze me." In Feburary, Ohanian called Williams his "#WCW, every day" (that's woman crush Wednesday, in case you weren't sure). And in other posts, he has called Williams "the greatest" and referred to her as his "everything."
In a rare public interview, Ohanian also explained to CNN that his relationship with Williams changed him "in a lot of ways." Telling CNNTech's Laurie Segall,
It is really easy, especially in tech, to think that we are the hardest working industry ever. There's a culture of grinding and all this stuff... and I think what has been so amazing about the last two plus years that I have known her is how humbled I have been so often so many times by her, even by the simplest of things. It's motivating, it's inspiring to share my life with someone who is that special.
Ohanian often chooses to remain quiet when it comes to expressing his feelings about Williams — but when he does speak, all the love comes pouring out at once. And that's something special.