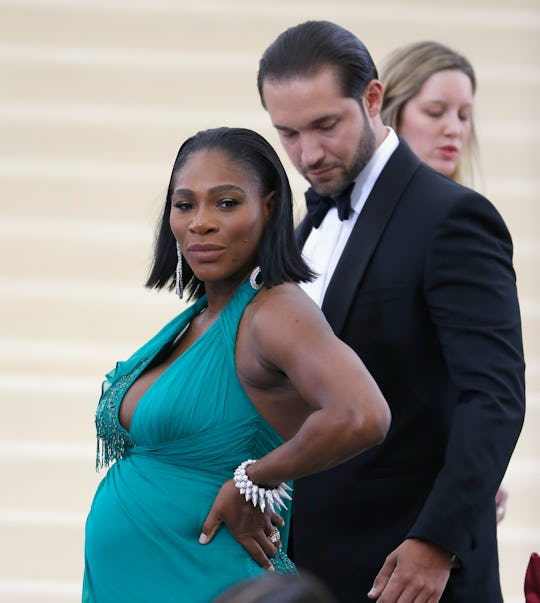 John Lamparski/Getty Images Entertainment/Getty Images
Alexis Ohanian Gives Serena Williams The Perfect Compliment
Attention, partners everywhere: when it comes to praising your significant other, you've got a new standard to meet. At Monday's Met Gala, tennis legend Serena Williams stepped out with her fiancé, Reddit co-founder Alexis Ohanian, and when asked about his partner for the Humans of New York Instagram, Alexis Ohanian praised Serena Williams in the most supportive way possible. If you didn't admire Williams enough already, be prepared for that to change.
The Humans of New York photo shows the couple standing together, glowing, with Williams' growing baby bump on display in her glamorous gown. When asked about Williams, Ohanian said,
She has the biggest heart. Everyone sees her success as an athlete, but all of that is layered on the size of her heart. She gives 100% of herself to everything she does: as a friend, as a lover, and soon, as a mother.
It's no secret that Williams is a badass. She's widely regarded as the greatest female tennis player of all time, and often the greatest player, period. (Sorry, Roger Federer.) And hey, why bother being specific about tennis? She's also garnered all sorts of "Athlete of the Year" awards. Plus, she recently won her 23rd Grand Slam and, oh yeah, she just happened to be PREGNANT when she did it.
But something that can get lost amid all the Wimbledon titles is Williams' sheer, wonderful humanity, and that's what Ohanian highlights so well in his quote while also, of course, paying proper homage to his partner's out-of-this-world athletic accomplishments. It's the kind of specific, supportive compliment that you hope you live your life well enough to deserve.
Ohanian has had plenty of practice in properly feting his fiancée. He hasn't been shy about complimenting Williams on social media, calling her "incomparable" and his "queen." (As he should! Those are all entirely accurate compliments.)
For much of their relationship, Williams and Ohanian stayed out of the public eye, leading to a bit of social media shock when Williams announced their engagement on — where else? — Reddit back in December. But although some dubious fans initially doubted that Ohanian (who's no slouch himself) could possibly deserve The Queen of Sports, they quickly got on board with the awesome couple. And the relationship got even more exciting in April, when Williams announced her pregnancy.
The Humans of New York post is yet more proof that Williams and Ohanian make an excellent pair. If you're not shipping them yet, what are you waiting for?