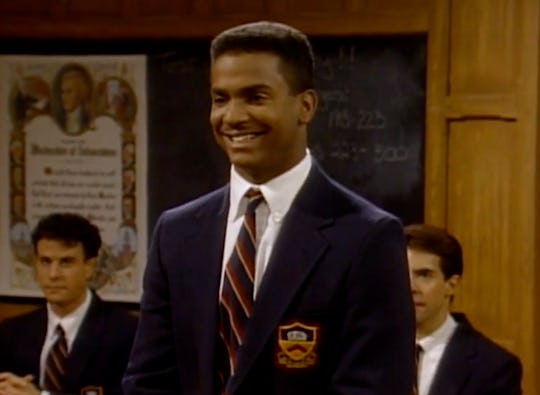 NBC
Alfonso Ribeiro Remembers 'Fresh Prince' A Little Differently Than You & I Do
Ever wonder what your favorite childhood stars are doing now? Same. In Romper's new series Claim to Fame, we're bringing you exclusive interviews with the faces of the past, contextualizing them in the present, and finding out what they've learned from their claim to fame.
If I asked you to do the Carlton dance right here, right now, you could probably do that no sweat, right? Same. Which is why I was so surprised when talking to Alfonso Ribeiro (Carlton IRL) when he said that in the '90s The Fresh Prince of Bel Air was never the ratings powerhouse I somehow believed it to be. Yet in the years following, syndication has helped cement the show as one of the most iconic of the decade. Meanwhile Ribeiro, decades after shimmying into fans' hearts in a sweater vest, has never actually left the silver screen for long — and I'm not just talking about Fresh Prince reruns.
Maybe you watched him waltz his way to the Mirror Ball trophy on Dancing With the Stars Season 19. Maybe you watched his game show, Catch 21. Or maybe you watch the national treasure that is America's Funniest Home Videos and know that Ribeiro has been the host for the past few years. (And if you tell me you don't like watching hilarious home videos, well, I feel like you're probably lying about that). The point is it's been a long time since Fresh Prince and Ribeiro has stuck around. (Minus the Carlton sweater, unfortunately.)
It might just be the nostalgia talking, but I think that Fresh Prince was ~clearly~ one of the best shows of the '90s. But when I ask Ribeiro if he felt the same way at the time, he responds with a laugh that it's impossible for anyone to predict the future. He's not wrong. "No one's ever gonna be like, 'We're doing this show and it's gonna be one of the greatest shows in history,'" he says. "People would call you an egotistical maniac if that was ever the case, right?" I mean, I wouldn't go that far, but I guess I understand what he's getting at. That said, he does agree that, at the time, everyone felt inspired and "incredibly creative" with what they were doing.
Ribeiro also points out that a lot of the success of the show came about later than one might think. "I think that most people don't really realize that the best week Fresh Prince of Bel Air ever had in its original run was 14th place in the ratings." I, in fact, did not realize this, considering if I were to shout "West Philadelphia, born and raised..." a dozen or so strangers could recite back to me, "On the playground was where I spent most of my days!" Of course, if you know anything about Ribeiro's career these days, you'll know that he's also associated with a few other programs just as iconic, starting with his Season 19 win of Dancing With the Stars — wherein he reprised his famous arms-up shimmy to general delight.
It turns out that being on DWTS was pretty magical for Ribeiro. Not only does he tell me he still hangs out with most of the dancers on the show (he refuses to name names), but it was pretty much directly responsible for getting him the hosting job on AFV. He breaks it down:
After I won Season 19 of Dancing With The Stars, ABC came to me and said, 'We'd love to sit down with you and talk to you about what you want to do.' And when I went into the meeting, there was a poster on the wall of Tom Bergeron for AFV, and they were like, 'What do you want to do?' And I was like, 'I want to do that.' And they were like, 'Well that's perfect because that's exactly what we want you to do.'
It was a match made in television heaven, and Ribeiro apparently couldn't be more jazzed about it. "I love what I'm doing," he says, continuing, "The idea that I get to go to work everyday and laugh everyday at work is special." He adds, cheekily, that not many people in today's society get the opportunity to even be happy, let alone love their jobs. He and I agree that we're very fortunate to have jobs that we love. He giggles at home movies all day, and I talk to my childhood heroes about their personal lives. Score!
Luckily for us all, at this point it's hard to miss Alfonso Ribeiro. If you haven't caught him hosting AFV, then there are always reruns of Fresh Prince.