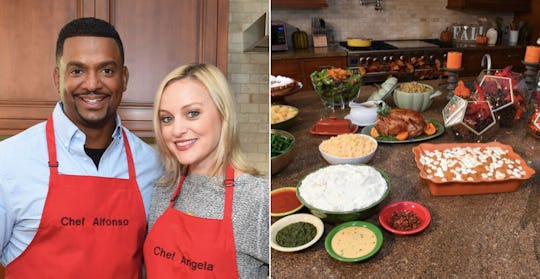 Courtesy of Alfonso Ribeiro + Bob Evans Farms
Alfonso Ribeiro Reveals Who's Sitting At His Thanksgiving Table This Year
Alfonso Ribeiro has quite a few things to be thankful for this Thanksgiving. There's that iconic sitcom, Fresh Prince of Bel Air, he starred in back in the 90s. There's his wife, Angela, who's currently pregnant with the couple's third child, who's expected to arrive in Spring 2019. And, of course, there's his current gig hosting America's Funniest Home Videos. Beyond all those amazing things, the comedian and actor is also thankful for his loving group of friends. So when it comes to Thanksgiving this year, Alfonso Ribeiro is hosting a "Friendsgiving," because no matter what you call it, Thanksgiving is all about bringing people together for good times and lots of good food.
Clearly, Ribeiro is a very busy guy. Between his gig hosting AFV, and taking care of his family, things can get a little hectic, especially during the holidays. And since Ribeiro lives in Los Angeles, which is hundreds of miles away from his family in Florida and his wife's family in Iowa, traveling is kind out of the picture right now, especially with another kid on the way. So instead of trying to fly across the country to see everyone or have everyone come to them, Ribeiro and his wife are hosting Friendsgiving with their friends there in L.A.
"We very rarely get to spend Thanksgiving with our families, but when you live in Los Angeles, and you live in a major metropolitan area, your friends are like your family," Ribeiro tells Romper. "And we have a ton of friends that, you know, don't have a full family base also."
Among those on his Friendsgiving guest list? As he tells Romper, a bunch of dancers from Dancing With The Stars. "A lot of [them] are from other places around the globe or families not here in Los Angeles," he says. As diehard fans will recall, Ribeiro claimed the mirror ball trophy after winning Season 19 of the show in 2014, so it's nice to hear that he stays connected with the DWTS family. Can you just imagine the stories they'll swap at the Thanksgiving table?
Of course, with such a diverse guest list, it means serving dishes that everyone will like, which is where Bob Evans side dishes come in. Although Ribeiro gets a bit of help in the kitchen by cooking up these easy and tasty dishes, he's still able to add his own personal touch to them — in fact, anyone can. "You can turn it into your own," Ribeiro tells Romper. "So, like the mashed potatoes, you can add sriracha. You can add pesto. You can add bacon, all these wonderful things to make it kind of your own special dish."
No word yet if his former Fresh Prince co-star, Will Smith, will make an appearance at his Friendsgiving feast, but let's all just hope Ribeiro keeps us posted.
With help from Bob Evans in the kitchen, Ribeiro can focus on the reason for the Friendsgiving season: spending time with his friends and perfecting his turkey. "It allows you to spend your actual cooking time on the turkey and everything else will be wonderful, great tasting side dishes for your Thanksgiving, Friendsgiving," Ribeiro tells Romper.
So now that Ribeiro has given all of us some Thanksgiving-menu inspo, we just have to figure out if they'll be digesting on the couch in front on the TV after their Friendsgiving feast or if they'll be having one epic dance party to work off all of those mashed potatoes. It's safe to say, though, that if a dance party did happen, Ribeiro's former DWTS cast members won't be the only ones with dance moves to show off. After all, Ribeiro does have one special dance move up his sleeve...
Whether you're spending time with family or friends this Thanksgiving, everyone can take a page out of Ribeiro's book: save time on some things in the kitchen to focus on bigger things, like the meaning of Thanksgiving — or Friendsgiving.
Additional reporting by Kathleen Walsh