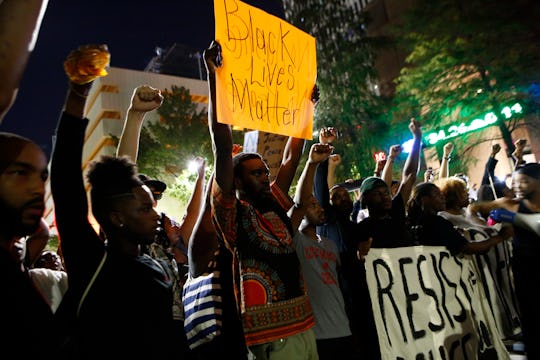 Brian Blanco/Getty Images News/Getty Images
Alfred Olango Protests To Attend To Fight For Justice & Let Your Voice Be Heard
Many of us woke up today heartbroken to hear that news of another unarmed black man being shot and killed by police was making headlines. In response, NBC News 7 San Diego has reported that activists are beginning to organize Alfred Orlango protests, including one that began Wednesday morning in front of the El Cajon Police Department, put together by local organization Reclaiming The Community and the San Diego PSL, along with other community organization and churches in the area. A Facebook event for the rally, called "Justice For Alfred Olango — End The War On Black America!" encouraged supporters to join the rally and make their voices heard, calling for the "end to the oppression of black and brown people."
According to CNN, 30-year-old Olango was shot and killed Tuesday afternoon in El Cajon, California, after his sister reportedly called 911 asking for help because he was mentally ill and "not acting like himself," walking in traffic and generally behaving "erratically" according to police. The El Cajon Police Department said in a statement that Olango did not comply when asked to put his hands up, and after Olango allegedly "rapidly drew an object," and held it up, standing in a "shooting stance," an officer holding a Taser and another with a gun both shot their weapons, fatally wounding him.
A Facebook Live video taken by a witness following the shooting shows a woman who identified herself as Olango's sister, Sarah, distraught and angry, telling the police "I called you to help me but you killed my brother," and "Why couldn't you guys Tase him? Why why why why?" according to The Daily Mail.
Around the country, others looking to voice their anger and sadness over Olango's death are also organizing events. Students at Texas State University announced on Twitter Wednesday morning that they would be holding an impromptu prayer circle in response to Olango's death, and that they'd be following it up with a "die-in" to represent "every person who has fallen due to police brutality."
In other cities and on college campuses, Black Lives Matter rallies continue to be organized against the deaths of unarmed black Americans. In Charlotte, North Carolina — where the police shooting of unarmed black man Keith Lamont Scott led to riots earlier in the month — students at the University of North Carolina at Charlotte have organized a Black Lives Matter Blackout March Wednesday, to "honor of the Black lives that were unjustly taken here in Charlotte [and] across the nation." Thursday, activists in Bowling Green, Kentucky, will be gathering for a Black Lives Matter vigil at the Warren County Justice Center to remember those "whose lives were taken as a result of unfounded fear and ignorance," and on Sunday, a rally will also be taking place in Moscow, Idaho, to fight for justice and against racial oppression.
Last week, the Atlanta chapter of Black Lives Matter organized a protest outside a shopping mall in the city's downtown, blocking entrances and traffic to call attention to Scott's death, as well as that of Terence Crutcher earlier this month in Tulsa, Oklahoma. Activists also launched a #NotOneMoreDime campaign, calling for a boycott of major area retailers as a form of silent protest, according to Fox News 5 Atlanta.
On Tuesday afternoon — likely right around the time that Alfred Olango's sister was calling 911 — hundreds of protesters gathered at a rally and vigil in Tulsa to honor Crutcher and his family. He was shot by police Officer Betty Shelby, who said Crutcher was behaving strangely after his car was stopped, and was not complying with her command to take his hands out of his pockets. According to NBC News KFOR, an affidavit claimed that Crutcher, who was unarmed, began walking to his vehicle with his hands up when he was shot. Shelby has since been arrested on one count of first-degree manslaughter. The Tulsa Police Department has not responded to Romper's request for comment.
The ongoing anger and calls for reform mean that rallies and vigils like these will continue, as activists try to effect change and fight back against inequality. But in light of Olango's recent death, protests like the one occurring in San Diego will likely continue to spread to other cities too, as the country processes the fact that yet another family and community is grieving an unnecessary loss.