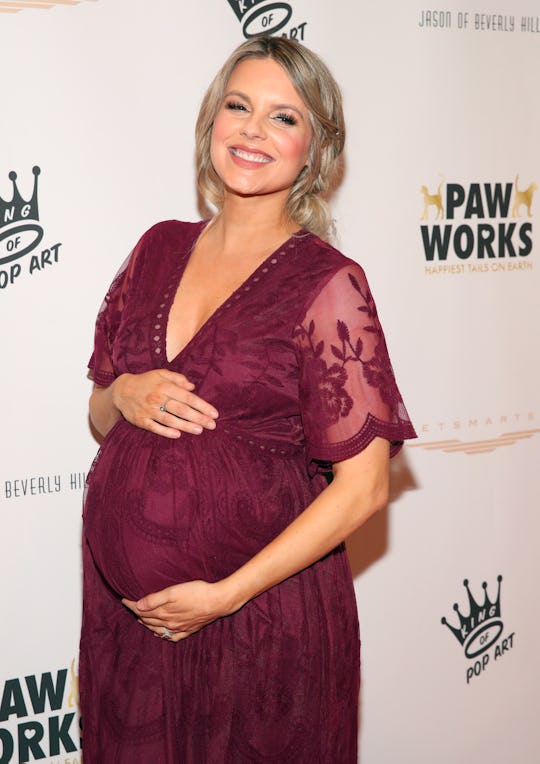 Christopher Polk/Getty Images Entertainment/Getty Images
Ali Fedotowsky Opens Up About How Hard Having Two Kids *Actually* Is
Part of the difficulty with being a millennial mom-to-be is that it can be tough to avoid getting sucked into the picture-perfect version of motherhood that seems to dominate social media. All over Instagram, moms appear to be raising multiple, young, well-dressed children, while looking effortlessly flawless and happy at all times in beautifully-decorated homes complete with Pinterest-worthy nurseries. Former Bachelorette Ali Fedotowsky certainly seems to be a perfect example — her Instagram life is #momgoals — but in a recent interview with Entertainment Tonight, Ali Fedotowsky said she would have waited to have her second child if she'd known how hard it would be, and her honest admission is a valuable reminder that, even for the women who appear to have it all figured out, motherhood is still immensely challenging.
Fedotowsky and her husband, Kevin Manno, welcomed their second child, a son named Riley, back in March, and they also have a 2-year-old daughter named Molly. Over on Instagram, Fedotowsky regularly shares bright and happy-looking photos of herself and Manno with their adorable children, in their beautiful (and inexplicably all-white) dream home, and it honestly seems hard to imagine she ever has to deal with a tantrum or an epic baby poop blowout on her perfectly-white duvet. But Fedotowsky says that her reality isn't nearly as perfect as it might appear on social media, and that while being a mom is "awesome," she definitely wasn't prepared for the challenges that come with having two children under the age of 3.
Fedotowsky told the outlet that while there are many wonderful elements of being a mom to young kids, it's definitely "a juggling act" that can also come with some unexpected sacrifices. One of them? Fedotowsky said that parenthood has made it so much harder for her and Manno to maintain the same spark they had for each other before they had kids, and that, actually, they "have not slept in the same bed in two months."
The reason is mostly logistical: Fedotowsky explained that Manno has a job as an early-morning radio host, but since he has to take over parenting duties when he returns home at noon so that she can start working on her blog and other projects, she "needs him to get a good sleep." While the arrangement might work out well for their schedules, though, she said it isn't always the best for their marriage:
It's a lot. Our relationship suffers. I'd love to say, 'Oh yeah, me and my husband are passionately making out on the side with our two kids,' but I'm not even sure I've made out with my husband in a really long time. We love each other so much. We know that this is a time where the kids are coming first and we are going to have to eventually put our relationship first. And we will, but we're in the thick of it [now].
The difficulty Fedotowsky and Manno face trying to stay connected while also being parents isn't exactly something you'd expect by looking at them on social media, but it's certainly something that many couples can absolutely relate to. Having young kids is a lot of work, and it's hard to remember how you feel about each other when you're both just trying to focus on check tasks off the never-ending parenting to-do list.
And, honestly? When you have little ones, sleeping in the same bed as your partner just isn't always the best arrangement — as much as intimacy might be important, so is ensuring that at least one of you gets enough rest to remain functional the next day (and in my home, at least, it's reasonable to expect at least one middle-of-the-night visitor wanting to snuggle, so sleeping in separate beds can simply be a strategy to ease the interruption when one of us has an early start the next day).
The good news for Fedotowsky and her husband though is this stage won't last forever. And since they've already emphasized their desire to stop at two kids, it shouldn't be too long before the new baby chaos begins to settle down: Fedotowsky recently told Us Weekly that there was "no chance" that she and Manno would have another child, and that they were "talking about vasectomies" in an effort to make that plan stick.
As pretty much any parent will tell you, the way Fedotowsky feels about motherhood is totally common: no matter how much you love your spouse, becoming parents always has a major impact on how you relate to one another. But hearing her talk about it openly is so validating. Especially since it serves as a valuable reminder that no marriage or family is ever perfect — even on social media.