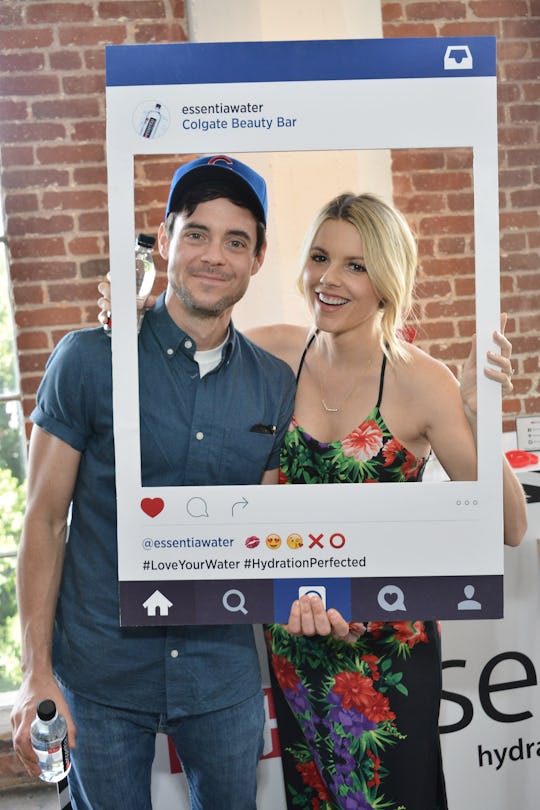 Araya Diaz/Getty Images Entertainment/Getty Images
Ali Fedotowsky Announces She's Having A Baby Girl & She's Really Enjoying The Prep Work
Former Bachelorette star Ali Fedotowsky and her fiancé Kevin Manno wanted to keep the gender of their baby a secret for as long as they could. As Fedotowsky explained on her blog, the couple has been responding to questions from people about the gender with a simple, "We know, but we are trying to keep it a secret for a while," which she admits "made people feel bad for asking." So she decided to spill the beans on her blog. And now that Ali Fedotowsky has announced she's having a baby girl, she's ready to talk all things baby — and do some serious shopping for baby stuff.
"Now we can just flat out tell the truth and excitedly share, it's a girl!!!!" Fedotowsky wrote in the blog post, which she shared along with some super cute gender reveal pics. She added that their "little girl has passed every test and is looking very healthy, she wrote. "But no matter what happens, we will love everything about her."
Fedotowsky and Manno also shared a home video, shot just after Christmas last year, showing the couple finding out they're having a girl. The two are obviously excited and even get a little emotional as the news sinks in. Take a look.
Fedotowsky congratulates Manno's mom in the video because she really wanted a granddaughter. "So this grand baby is the little girl she always wanted!" she wrote on her blog. "But I also want to congratulate my mama! She is so excited to be the grammy to our little angel."
Fedotowsky also confessed she never really thought of herself as the mother to a little girl, but now that she's got a little lady on the way, she seems to be embracing the idea. She even admits that she's never been much of a "pink person" and never thought they would want a bunch of pink in their house, but all that appears to have changed. Fedotowsky is learning the secret many mamas of little girls learn all too quickly — shopping for little girl clothes is really fun.
"Oh was I wrong!" Fedotowsky confessed. "Cause within an hour of finding out, we were at a baby store to celebrate the news and the very first thing we bought was a green and pink onesie. Since then, I've bought soooo many pink things — ha!"
Fedotowsky goes on to name check Vanessa Antonelli, who she says will design the couple's nursery. In the meantime, Fedotowsky said it's "time to go shopping!!!" Here's hoping the 'lil mama has a blast getting ready for the summer arrival of her baby girl.