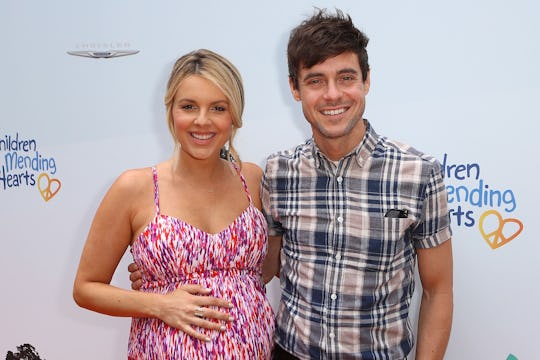 Ari Perilstein/Getty Images Entertainment/Getty Images
Ali Fedotowsky Cancels Her Mexico Wedding Because Of Zika Virus & Sends A Powerful Message
There has never been a more relevant time to be aware of Zika than now. With the prominence of Zika growing around the world, it is important to be aware of the virus and its effects before planning any vacations or events (I'm looking at you, Rio Olympics) where the virus exists in mosquitos. Because of this, Ali Fedotowsky cancels her Mexico wedding because of Zika virus — sending a powerful message to all travelers.
The currently pregnant, former star of The Bachelorette told The Knot about her plans to cancel her wedding — a wedding she has been planning for a while, actually. Fedotowsky and fiancé Kevin Manno announced their engagement back in September 2015. Just a few short months later, in January of this year, Fedotowsky and Manno also announced that they were expecting their first child. Fedotowsky, who is due in July, told The Knot all about the decision to cancel the wedding — even with the wedding happening after she delivered her child.
"Originally, we planned the whole wedding in Mexico," Fedotowsky told the wedding magazine. "We were super excited. We found the most amazing location and villa that would allow our entire family to stay with us. Then, all the news broke about Zika and we had to cancel."
While Fedotowsky didn't state when exactly her wedding was happening, she was smart for moving it elsewhere. According to the Centers For Disease Control, Zika infected mosquitos are in Mexico and have the potential to spread it to people. And according to another website, there have been 419 total reported cases of Zika in Mexico. Fedotowsky continued:
It was such a huge disappointment. Even though we won't be pregnant when we get married, we just didn't think it would be fair to ask our guests to travel to a location with active Zika virus transmissions...Most of our friends are in 'baby mode,' and that just wasn't a fair ask.
This is an incredibly powerful statement and move on Fedotowsky and Manno's part. While some people might think of mosquitos when they think of Zika, it is important to remember that Zika can also be transmitted sexually. Therefore, when traveling out of the country even just for one or two nights, people run the risk of getting bit by a mosquito containing Zika and spreading it to their partner. This is particularly risky, given the side effects that Zika can cause in pregnancy.
This sends a powerful message to the wedding's guests but also to everyone else. When it comes to those who want to get pregnant, or even just be protected, it might be worth the disappointment of cancelling a wedding in a destination location just to keep everyone safe.