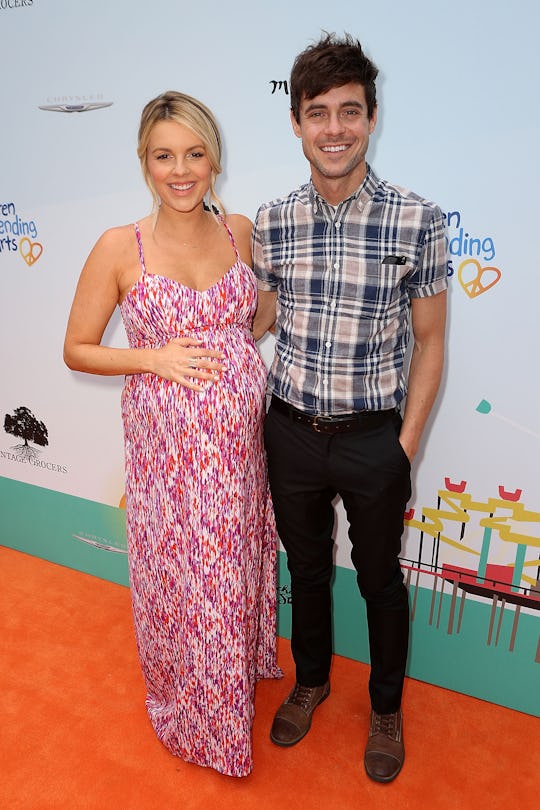 Ari Perilstein/Getty Images Entertainment/Getty Images
Ali Fedotowsky Gives Birth To A Girl, & She's Adorable
It's a girl for the Bachelorette couple. Ali Fedotowsky gave birth to her daughter Wednesday morning. Now the Season Six Bachelorette and TV host fiancé Kevin Manno are the proud parents of Molly Sullivan Manno. Us Weekly received an exclusive first photo of the little girl, and she's super cute.
Molly is 7 pounds, 6 ounces, according to Us Weekly. Fedotowsky said that the baby's name has a meaning special to both parents:
Molly Sullivan is named after two very important women in our lives. My late-grandmother, Molly Fedotowsky, and Kevin's late-grandmother, Eva Sullivan, will both live on in our little girl.
The timing of baby Molly's arrival is especially poignant: on her blog, Ali Luvs, Fedotowsky wrote that she and Manno decided they wanted to have a child together last year on July 4. Though they ended up trying to wait a few months before conceiving, they both knew that they were ready.
Fedotowsky's difficult pregnancy brought plenty of challenges. In a July 5 blog post on his fiancé's website, Manno wrote that the second trimester went beautifully but the third trimester was a challenge for Fedotowsky due to frequent Braxton Hicks contractions related to "uterine irritability." Fedotowsky revealed to Us Weekly that her condition meant she had to be on modified bed rest; not only did she endure the pain of contractions about "every two minutes," but she could rarely leave the couch. Manno expressed his admiration for Fedotowsky's strength in his blog post:
Even though there have been a lot of tears and sleepless nights, I have to say, she's handled this like a champ. I would've gone insane a long time ago, and she's maintained a positive outlook throughout. I'm not just saying this to sound like some great guy, but I'm totally in awe of you women & the things your bodies go through.‌
Luckily, Fedotowsky did get to enjoy some of the more delightful moments of pregnancy. She worked with designer Vanessa Antonelli to create a dreamy nursery, People reported. Anchored by a flower wall, the room is filled with personal touches and whimsical pink and white decorations. The nursery even has a chandelier and a closet customized for Molly by Lisa Adams (the designer behind Kris Jenner's closet).
Though it's likely Fedotowsky and Manno will focus all of her attention on their baby for the next few weeks, there may be another celebration in their future: according to People, the two are looking forward to getting married. Their first wedding, scheduled for January 2016 in California, got cancelled when Fedotowsky found out she was pregnant. They then planned to wed in Mexico, but concerns surrounding Zika infections prompted them to call off that ceremony, as well. Though they still seem to be determining exactly how they want to move forward, Fedotowsky said it's unlikely they'd let the event be televised.
For now, Fedotowsky gets to enjoy new motherhood. Throughout her pregnancy, she openly shared her excitement and anxiety with fans; ET reported that one Fedotowsky blog post offered a glimpse at how hard pregnancy can be:
I realize that there are many women out there that would give ANYTHING to be in my position. And my heart aches for those women. I will never know your pain or pretend that what I am going through is anything compared to what you're going through. But I have to be honest with my feelings right now and lately, I just want my body back. I want to have a drink at the end of a stressful day. I want to be able to tie my own shoes. I want to sleep on my stomach. I want to go to yoga. I want to walk my dog around the block without being in terrible pain. I want to eat runny eggs for breakfast. I want to not be in pain. I want to feel like myself again.
Though caring for a newborn is its own kind of challenge, Fedotowsky can now leave the painful days of pregnancy behind and totally embrace motherhood.