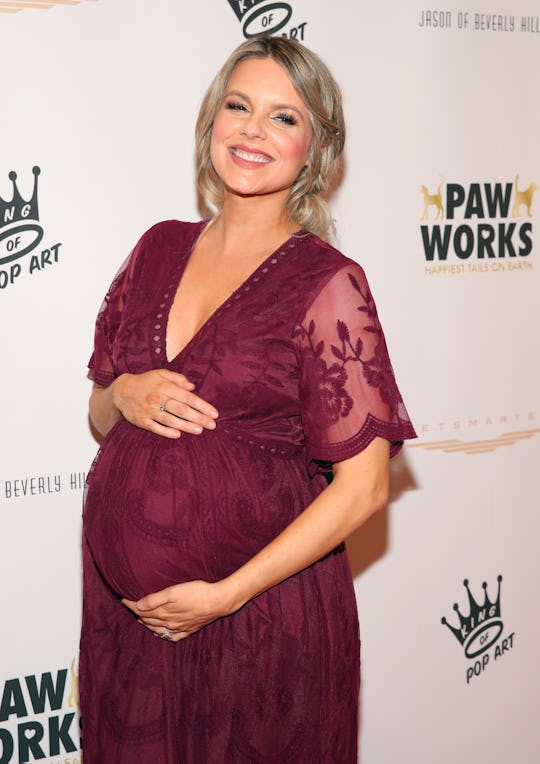 Christopher Polk/Getty Images Entertainment/Getty Images
Ali Fedotowsky Got Honest About Struggling With Her 2nd Pregnancy, & Moms Will Totally Relate
Bachelorette alum Ali Fedotowsky announced her second pregnancy in November 2017, and in late February, she and her husband, Kevin Manno, broke the news that the baby is a boy. Amid all the excitement, however, Fedotowsky suffered a major health scare 26 weeks into her pregnancy, and she thought her son would be born premature. Although the baby is doing just fine now (what a relief), Ali Fedotowsky continues to struggle with her second pregnancy. And if you're currently experiencing a rough pregnancy or have in the past, there's a good chance you'll relate to what Fedotowsky is going through. As it turns out, the second pregnancy is often more painful than the first.
When Fedotowsky was pregnant with her first child, Molly Manno, she suffered a bad bout of morning sickness. "I only ate clementines and dry toast for about a month between weeks 7-12," Fedotowsky penned in a January 2016 blog post. "The way I tried to explain it to Kevin is that I felt like I constantly had a hangover, but I never got to enjoy the fun part the night before."
But, while the morning sickness was frustrating, it couldn't prepare her for the physical lows of her second pregnancy. When Fedotowsky was asked by Entertainment Tonight correspondent Nischelle Turner on Saturday night about whether she's ready to give birth, she replied, according to ET Online: "No, I'm not ready at all. I'm in a lot of pain this time." As for the cause of the extra pain, Fedotowsky reasoned, according to Yahoo. "I don't know if it's like I'm more stretched out the first time or what."
Making matters even more difficult for Fedotowsky is that she went through her first pregnancy alongside her then-pregnant friends, like Mean Girls star Lacey Chabert. Without the extra support, however, Fedotowsky is taking solace in food, a fact her doctor isn't too happy about, according to Yahoo:
Yeah, it's different this time. The doctor legit told me to stop eating so much. I'm not even kidding you. The doctor was like, 'How much weight have you gained?' I was like, '25 pounds.' I was 27 weeks, this was just a week ago. And she's like, 'So maybe you shouldn't eat quite as much as you've been eating.'
Of course, it's likely that a lot of parents out there were nodding along during Fedotowsky's candid interview. From the remark about not being prepared this time (it's not easy preparing for another kid to arrive when you're chasing around a toddler, right?) to unexpected weight gain, there's a lot parents can relate to here. But what about second pregnancies being painful? Is there any truth to this supposed phenomenon?
The answer to that question is a big yes. Essentially, if you had minor issues in your first pregnancy, those problems will probably be amplified your second time around. Additionally, these annoyances will likely crop up earlier in your pregnancy as opposed to later. "If your abdominal muscles are a lot weaker in your second pregnancy, you may have back pain earlier," Shelly Holmstrom, associate professor of obstetrics and gynecology at the University of South Florida Morsani College of Medicine, told Parents.
Another factor is relaxin, a hormone that "relaxes the ligaments in the pelvis and softens and widens the cervix," according to Your Hormones. This hormone tends to be stronger and activated more quickly in second pregnancies, which means more body aches and discomfort, according to Today's Parent.
Not to mention, it's common for second-time parents to be more fatigued and physically worn down. What awesome news, right?
The upside to all of this is that your second delivery will likely be speedier than the first thanks to your cervix dilating more quickly and your loosened muscles, according to BabyGaga. At least there's this big perk to look forward to, I suppose.
So, hang in there, Fedotowsky. You're almost at the finish line, and similarly to all the other expecting parents out there, you've totally got this.
Check out Romper's new video series, Bearing The Motherload, where disagreeing parents from different sides of an issue sit down with a mediator and talk about how to support (and not judge) each other's parenting perspectives. New episodes air Mondays on Facebook.