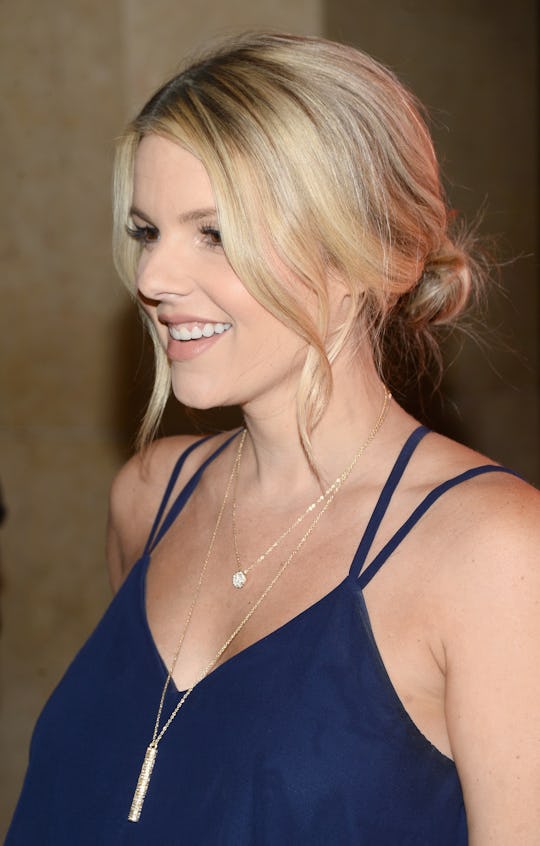 Matt Winkelmeyer/Getty Images Entertainment/Getty Images
Ali Fedotowsky-Manno Opens Up About Her Early Pregnancy Experience With Baby No. 2
As wonderful and magical as pregnancy is, it isn't all sunshines and butterflies — especially in the first trimester. The beginning of it all can really suck sometimes, even for celebs. For example, Bachelorette star Ali Fedotowsky-Manno, who got real about early pregnancy and morning sickness in a recent interview, and her struggles are seriously relatable. From nausea to fatigue, first trimester troubles are no fun.
Fedotowsky-Manno and her radio host husband Kevin Manno are expecting a sibling for their 16-month-old daughter Molly Sullivan, and the expectant mother talked to People about her second pregnancy so far. She seems to be overjoyed, saying, "I feel so connected to this baby already. I already know what joy he or she will bring into our lives." She also told People that she and her husband were trying for five months before conceiving baby number two, saying that she had found out she had been ovulating much earlier than she thought she was. "After I realized that, we got pregnant right away!" she told the magazine.
Along with a miscalculation in ovulation, Fedotowsky-Manno has had some other complications once she got pregnant, as she told People:
It was constant nausea. It felt like I wanted to throw up all the time! And the hardest part is the sheer exhaustion. I'm so tired and Molly is such an early riser. She has me up at 5:30 a.m.!
Her first symptom of vomiting all the time, also known as morning sickness, is common symptoms during the first trimester — with 80 percent of all pregnant females experiencing it, according to Medical News Today — but that doesn't make them any less difficult. The American Pregnancy Association reports that morning sickness usually begins around the sixth week of pregnancy and clears up around week 12. Considering Fedotowsky-Manno is due in May, according to Brit + Co, her first trimester has come to a close and those pesky nausea symptoms seem to have cleared up.
Fatigue is also very common during the first three months, due to the numerous hormonal changes that are occurring in a pregnant woman's body, according to the American Pregnancy Association. Of course, being woken up at the crack of dawn doesn't help with the tiredness either, as any parent can tell you. While her daughter is probably still going to use up much of mama's energy, the endless exhaustion of early pregnancy should be over as well. Who knows, she may even have the famous second trimester energy boost to look forward to.
Along with some insight into her pregnancy experience, Fedotowsky-Manno also dished on how she announced her pregnancy to her husband Kevin, according to Us Weekly:
I took a test in the morning and when it was positive, I ordered a book, I'm a Big Sister, from Amazon and had it delivered the same day. So that night, I gave the book to Kevin and that's how he found out! His face was pure shock and so super happy too.
The two Mannos know the sex of the baby, but they aren't spilling that info just yet. The mom-to-be explained to People that they have a completely understandable mix of nerves and excitement about expecting a second child:
This is what we've wanted and we feel so lucky. But at the same time, I'm terrified! I'm scared, but I also know they are going to be able to play together and I can't wait for that.
Nausea and fatigue aside, an anticipated baby is certainly something worth celebrating. With the first trimester in the rearview mirror, hopefully these issues won't keep her from enjoying the rest of her pregnancy and preparing for Molly's little brother or sister to arrive.
Check out Romper's new video series, Romper's Doula Diaries:
Watch full episodes of Romper's Doula Diaries on Facebook Watch.