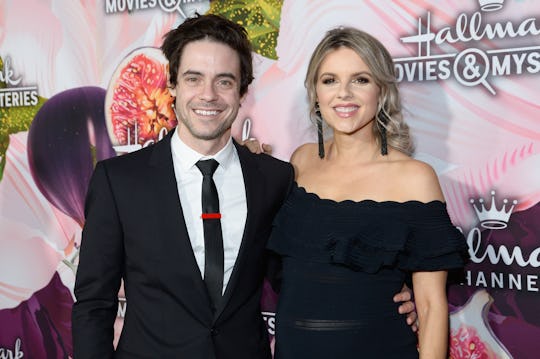 Tara Ziemba/Getty Images Entertainment/Getty Images
Ali Fedotowsky Just Revealed Baby No. 2's Sex With The *Sweetest* Announcement
In an incredibly sweet announcement posted to Instagram on Wednesday, Ali Fedotowsky revealed the sex of her second child and Bachelor Nation fans couldn't be more thrilled to hear the news. The former Bachelorette is expecting her second child with her husband, Kevin Manno, which she announced back in November, and just gave fans the cutest pregnancy update.
So, what will the couple be having? Well... it's a boy, y'all! Yes, the expectant parents will be welcoming a baby boy into the world in just a couple of months. "We're having a BOY!!!!" Fedotowsky wrote on her blog on Wednesday afternoon. "Oh my gosh you guys, I'm so excited to finally share this news with all of you."
Her announcement continued, "We've been wanting to share for such a long time now but we kept putting it off because we just kept forgetting to plan a cute gender reveal photo for Instagram!"
With a May due date, as People reported, the couple is getting into the final stretch of Fedotowsky's pregnancy and their excitement is certainly contagious. "Oh Boy!!! 💙👶🏻 Kevin, Molly, Owen and I are so excited to share that we are expecting a little boy!!!!" the mom-to-be captioned her Instagram post, which fans immediately took to the comment section to share their congratulations. The adorable photos were taken by photographer Ashley Burns, who also shared the photos on her Instagram page.
Fedotowsky and Manno already share one child together, 18 month-old Molly, and Fedotowsky has always been pretty open about her personal life, so her latest announcement certainly isn't a surprise, but it's still sweet. In fact, Fedotowsky and Manno have been living their entire life as a couple in the spotlight, basically. After Fedotowsky's stint as The Bachelorette on Season 6 of the ABC reality series, she was engaged to Roberto Martinez. However, that relationship came to an end after 18 months and no wedding, but that didn't stop Fedotowsky from believing in true love.
"I actually met my now-husband — ah, I love saying that — my husband, I met him on a TV show," she said in a March 2017 interview with People. "So yes, I absolutely think it's possible to find love on TV. And on The Bachelor, yes. But your odds aren't better being on The Bachelor or The Bachelorette. If anything, they're probably a little worse because there's so much pressure on you."
But now, it's obvious that Fedotowsky has found her happy ending, and even though it wasn't on The Bachelorette, the family is darling and happy. But with her second pregnancy, Fedotowsky has really let fans in via her blog and social media about what's happening. And it was only a few days ago that she posted about the night she thought she was going into labor, at only 26 weeks.
On a Feb. 21 blog post, Fedotowsky wrote about how she had experienced severe pain one night, and thought they were contractions. Fortunately, she wasn't going into early labor, and she was able to share her story and potentially help other women who might have dealt with similar issues. Per her blog:
I talked to my doctor first thing the next morning and she told me that the contractions were most likely from severe dehydration and possibly the pain was made a little worse from gas. It's embarrassing for me to even say that because the pain I was experiencing was so awful that it seems insane to me that gas could cause something like that. But I think the majority of it came from dehydration.
And now, fans know that Fedotowsky is having a baby boy, something she and Manno are super excited about. "Kevin and I would've been totally thrilled with either a girl or a boy, but I have to say, we were pretty overwhelmed with emotion and joy when we found out we were having a little boy," she explained on her blog. "We don't plan on having any more children and we knew that if this baby wasn't a boy, we would never raise a son (well a human son. We have our poochie son Owen)."
With an announcement as sweet as this to reveal her baby's sex, how she reveals the birth of her son will undoubtedly make you say "aww" all over again.
Check out Romper's new video series, Bearing The Motherload, where disagreeing parents from different sides of an issue sit down with a mediator and talk about how to support (and not judge) each other's parenting perspectives. New episodes air Mondays on Facebook.