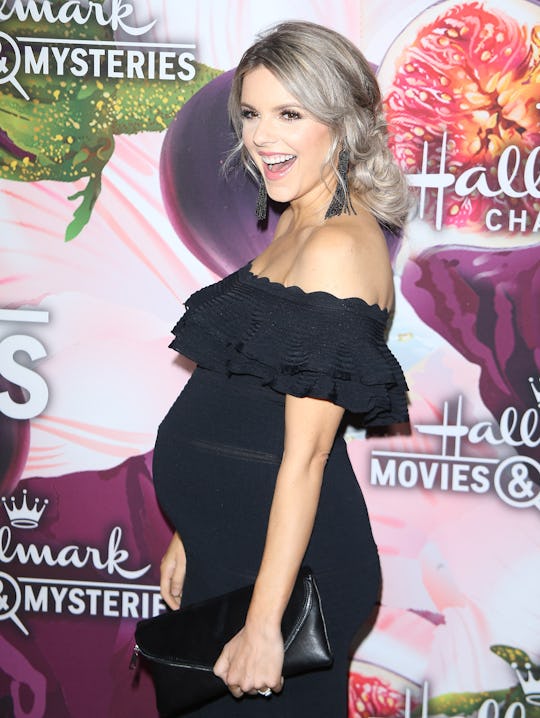 Michael Tran/Getty Images Entertainment/Getty Images
Moms Are Singing Ali Fedotowsky's Praises For Being Real About Her Postpartum Body
Adjusting to new motherhood is nothing if not a series of ongoing changes. As any new parent can attest, having a baby turns your world upside down, and everything from your sleep schedule to your bodily functions work totally differently than before. It's a lot to wrap your head around, especially when you compound some of those physical changes on top of the already unreasonable beauty standards most women have spent their lives being subconsciously conditioned by. It's understandable why it can be really tough to make peace with yourself. In a recent Instagram post, Ali Fedotowsky showed off her postpartum stomach, confessing that though her confidence took a dip after her recent delivery, she's finding herself again.
"This might be my most vulnerable post on Instagram ever," the post, which was uploaded on Monday, began. "I've gone back-and-forth 1 million times in my head on whether not I wanted to post it. But at the end of the day, I know it's important to be open and honest about my postpartum body in hopes that it helps even one person out there who is struggling with their own body image. If you swipe to see the second photo in this post, you see that my body has changed. My skin around my stomach is very loose and stretched out, I'm 15 lbs heavier than I used to be, and my cup size has grown quite significantly."
In the next two photos on the post, Fedotowski shed her blue towel, revealing her body in a bikini for the first time. She continued on her blog saying that she gets comments a lot from followers saying that they can't believe how much she "bounced back" to her "pre-pregnancy body," but she really wants people to know that she's really just "good at picking clothes that flatter my body and hide my tummy." She continued:
I've tried to assure many of you that I haven't completely bounced back and that my body has changed – a lot! But as much as I say that, I feel like it's hard to believe unless I show you guys. I want you all to see me as I really am, and to know that I'm not perfect and I struggle with my postpartum body just like many other women out there do.
Many fans and followers on the post have been sharing their resounding support and gratitude for Fetotowsky's honesty. "This is amazing for all women to see. I've had two C-sections but am reminded this incredible body grew two of my greatest blessings. Thank you for being vulnerable and transparent," one comment read. "You are so brave and beautiful! I don't think I could ever do it! But it's real life. So much of social media looks just too damn perfect and makes me feel like my life is messy and boring. This post really made my day. Thank you for being you," read another.
Back in May, Us Magazine reported that Fedotowsky gave birth to her second baby, a son, with husband Kevin Manno. "Our sweet boy has arrived! Born 5/24, 12:57am at 21.5 inches and weighing 8lbs 11oz. We are so grateful and bursting with love!" she wrote on Instagram at the time. Her son, Riley, joins older sister Molly.
Continuing on her blog about the changes that come with motherhood, Fedotowsky added: "My body has changed in many ways... I definitely have a pouch of belly fat that wasn't there before I got pregnant with Riley and the skin around my stomach is extremely loose. I can grab a fistful of it with my hand and stretch it out. It's the weirdest thing! Sometimes I wonder if it will ever go back to normal. Maybe it will, maybe it won't," she said.
However, Fedotowsky is always a proponent of self-love, concluding the post by saying: "Either way, I'm learning to be kinder to myself every day."