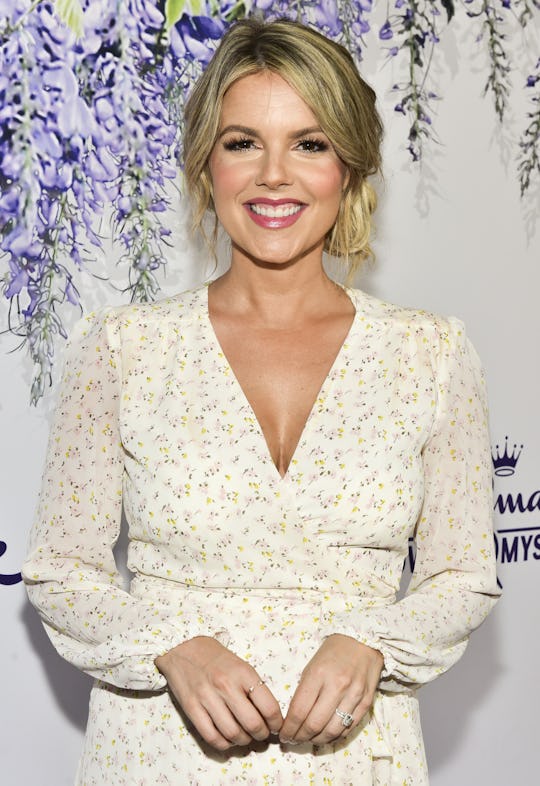 Rodin Eckenroth/Getty Images Entertainment/Getty Images
Ali Fedotowsky Showed Off Her Postpartum "Lumps & Bumps" In This Amazing New Photo
If there's anything women need — and new moms, especially — it's not so much more body positivity, but perhaps more body neutrality. Though the former has become a popular way to make peace with your body and learn to appreciate that which society may say isn't "good enough," the latter is the radical notion of being able to see your body for what it does, rather than giving into the impulse to dissect and analyze it's every curve, line and measurement. That's why Ali Fedotowsky showing off her postpartum "lumps and bumps" in this new photo is so significant. It's an important reminder for moms, but people everywhere, too.
On Tuesday, Nov. 6, Manno posted a photo of herself in a bra, leaning across her bed, and opened up about how she feels about her torso postpartum. "Self love is a difficult thing to fully embrace. When I look at myself in the mirror I can't help but notice that my hips are wider than they used to be, my wrinkles are deeper than when I was in my 20's, and my stomach has lumps and bumps that didn't used to be there," the former Bachelorette contended.
She continued, "But then I try to remember that my hips are wider because they give birth to two beautiful children. My wrinkles are deeper because I've spent countless sleepless nights making sure my kiddos are cared for, fed, and loved."
Manno continued, "And my belly is extra squishy because it spent 18 months making sure two sweet little babies had a place to call home. Sometimes what we see as 'flaws' on the outside, are actually what make us stunningly beautiful on the inside."
Fans immediately began responding to the post, expressing their gratitude to Manno for being so transparent not only about seeing her body as a vehicle for experience as opposed to an object that needs to be groomed and conditioned to look so much different than it does naturally.
"I haven't had children yet unfortunately, but have put on so much weight over last few years, am at the most I've ever weighed and I hate looking at myself anymore," began one comment. "I needed to see this today. You are beautiful and you have earned your 'stripes' as a gorgeous and amazing mom! Bringing beautiful children into this world. Keep being strong for all of us who also have trouble with our flaws, it'll be contagious!"
Another wrote, "I love this more than you could know. I've struggled with body image issues since high school. Pregnancy made it even worse. Now that I'm in my 60s, I still hide my lumps and bumps, but I'm a little more accepting of them."
It's not the first time Manno has been transparent about the struggles and challenges of motherhood.
Earlier this year, Manno and her husband Kevin welcomed their second child, a son named Riley, who joined them and older sister Molly, as People reported. However, having a toddler and an infant in the house together proved to be challenging to the Manno's marriage.
In an interview with Entertainment Tonight, Manno shared: "My husband and I have not slept in the same bed in two months. He does a morning radio show, so he works really early and I need him to get good sleep... So he sleeps in the guest room, I sleep in our room with the baby and the baby wakes up all night and he gets better sleep because he has to wake up and be super dad all day long with Molly."
It's refreshingly transparent, and such an important reminder for moms who've all but been convinced by social media that parenthood is perfect and effortless, as it certainly is not. Manno is a warrior for self-love and acceptance, and for that, everyone should be grateful.