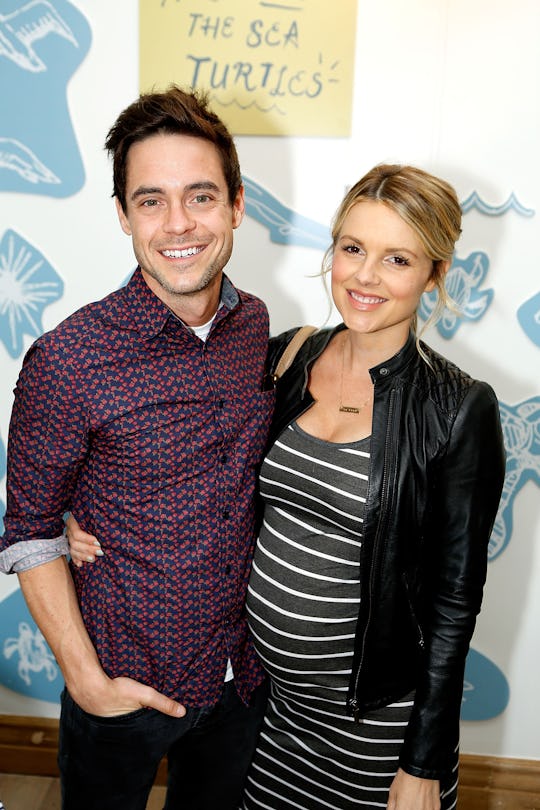 Randy Shropshire/Getty Images Entertainment/Getty Images
Ali Fedotowsky Talks About Her Braxton Hicks Contractions & Is Refreshingly Honest
When it comes to the last stage of pregnancy, things can be a bit rough. In the last few weeks the pressure of the baby starts to get to mothers and some are just dying to have their pregnancy done with. Former Bachelorette, Ali Fedotowsky, understands that pressure. In her final stretch of pregnancy, Ali Fedotowsky talks about her Braxton Hicks contractions — and shares her final frustrations with her pregnancy.
On Friday, Fedotowsky told People that she was feeling the urgency of her first child, who is due in eight weeks. Fedotowsky first announced that she was pregnant back in January after getting engaged to Manno in September 2015. She later shared the cutest photo of her on her blog announcing her pregnancy in the most stylish pair of mom jeans. Later, in March, Fedotowsky confirmed that her first child would be a girl in one of the cutest gender reveal photoshoots.
But now, in the last few weeks of her pregnancy, Fedotowsky is opening up about her struggles during the homestretch of being pregnant.
"I would love to tell you 'I'm good. This pregnancy is wonderful.' I am so grateful to be pregnant. But I am just in so much pain all the time!" Fedotowsky told People.
What kind of pain is Fedotowsky in? The kind of pain associated with false contractions, or Braxton Hicks contractions. Braxton Hicks contractions are when the uterus tightens up, gearing the body for delivery and are caused by hormones. Oftentimes, new mothers mistake them for real contractions. But Braxton Hicks contractions are less frequent and regular than real ones. Fedotowsky continued,
I'm on modified bed rest because I have contractions all day. They're Braxton Hicks [contractions] but they're constant, like every two minutes. It's a thing called uterine irritability. Basically, I have a very pissed off uterus, is essentially what it means.
Fedotowsky has been incredibly vocal about the struggles she has faced during this current pregnancy. In one recent Instagram post, Fedotowsky admitted that she has gained 25 lbs. throughout her pregnancy. On her blog, Fedotowsky also opened up about her struggles during her first trimester, describing how sick she felt all the time and her inability to keep food down.
For now, it seems like Fedotowsky is putting up with the pain in hopes of a speedy delivery.
All day I'll just have contractions. They're not painful but they're uncomfortable. But I hear that if you have those, it prepares your body for labor. But I'm kind of hoping this baby just kind of flies out. You know what I mean? Just slips out!
I think it is incredibly refreshing for a celebrity to talk about just how painful the last trimester of pregnancy truly is. Especially talking about Braxton Hicks contractions — which is something a lot of people face in their own pregnancies.