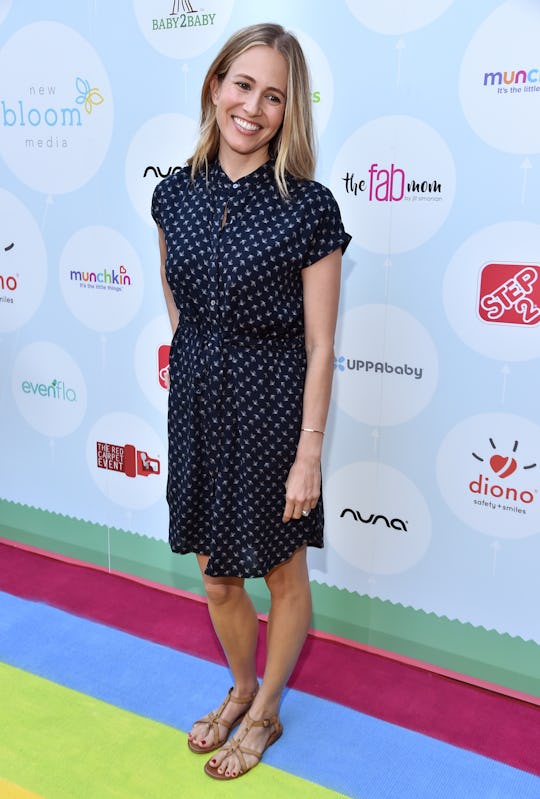 Alberto E. Rodriguez/Getty Images Entertainment/Getty Images
Ali Fedotowsky Worries She'll Go Into Labor At A Wedding, & Moms Can Totally Relate
This spring will be a busy one for former Bachelorette contestant Ali Fedotowsky. She is expecting her second child with husband Kevin Manno in May, but is also set to be a bridesmaid in her brother-in-law's ceremony. And that potential overlap of her due date and her appearance in the wedding means that Fedotowsky could go into labor during the wedding, and she is understandably concerned it, like any mom would be.
Fedotowsky and Manno announced in November that they are expecting their second child some time in May. The announcement featured a sweet photo of the two and their daughter Molly with the caption, "And just like that, life became a whole lot sweeter." The soon-to-be mother of two spoke with Us Weekly about her plans for the spring and how her pregnancy could impact the wedding, saying:
Luckily we don't have to fly to go to the wedding, the wedding is nearby so we can drive, but it's mid-May. My doctor keeps telling me that there's a chance because Molly was eight days early and with your second baby you tend to be even earlier than the first one. So she's like, 'Look, be prepared for that water to break. There's a chance that could happen.'
Another difficult reality of dressing up during pregnancy is finding formal clothes to fit a rapidly growing body. Fedotowsky confronted this challenge head-on during bridesmaid dress shopping. She told Us Weekly that she was "terrified" by the task, but she found a perfectly adorable dress. It sounds like her future sister-in-law understood her needs perfectly:
When [Jill] was picking out bridesmaid dresses I was like, 'I'll wear whatever you want me to, it's your wedding, but just keep in mind… I will look a little bit interesting in certain styles. In certain styles my chest is going to be a lot bigger, my belly. Everything is going to be bigger!'
Since getting married, the popular lifestyle blogger and expectant mother has been open about wanting to have another child. She spoke with People in July about how committed she was:
If I was ovulating right now, I wouldn't be here! I'd be back in L.A. We want another baby, and sometimes I think, 'Gosh, I should be careful about being so vocal about wanting to be trying right now' because what if it doesn't happen right away?'
She went on to say that she was hoping for the best, but trying to keep her expectations from getting too high:
What if it takes a year to happen? What if it takes two years? You just never know, so if that's my path, that happens. I'm hoping it happens fast, but you never know.
Along with opening up about her hopes for the family, Fedotowsky has also discussed her love and admiration for Manno as a father. She told Entertainment Tonight that he loves being a dad to his little girl:
Kevin is the best dad. He's so present. He loves being a dad to Molly. We talk all the time about having another one, and I ask him if he'd want a boy or a girl, and surprisingly -- and I was surprised to hear him say [this] -- he wants another girl because he just loves being a dad to a little girl.
For now, the happy mama tells Us Weekly that she is soaking up every moment with Molly before there is another baby diverting her attention. She's busy Christmas shopping for both Molly and the little baby and has plenty to keep her occupied. With another little one on the way, those precious moments of one-on-one time will soon be few and far between. Hopefully, the coming baby will take their time and let mom enjoy her pretty bridesmaid's dress and the last bit of alone time with Molly.
Check out Romper's new video series, Romper's Doula Diaries:
Watch full episodes of Romper's Doula Diaries on Facebook Watch.