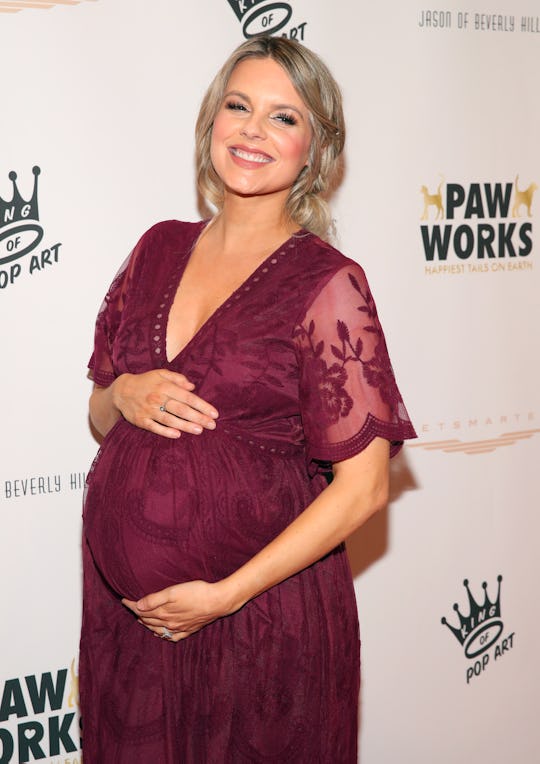 Christopher Polk/Getty Images Entertainment/Getty Images
Ali Fedotowsky Welcomes Her 2nd Child With Kevin Manno, & Her Announcement Is So Beautiful
It's a boy! Ali Fedotowsky and Kevin Manno welcomed their second child on Thursday morning, according to the new mom's Instagram announcement. The baby was born at 12:57 a.m., weighing 8 pounds, 11 ounces, and measuring 21.5 inches, and the new parents say they are "bursting with love." He has yet to be named.
Fedotowsky took to her Instagram account to share a sweet moment between the new parents and their son in the hospital. In it, you can see Fedotowsky holding her new son, while husband Manno wraps his arms around them, and they both gaze down at the baby together. It's even cuter that the black and white shot looks totally raw and unposed, just like an honest look into what is sure to have been one of the most amazing mornings of their lives.
"Our sweet boy has arrived!" Fedotowsky shared in the caption. "We are so grateful and bursting with love." Us Weekly reported that the couple welcomed their first child, a daughter named Molly Sullivan Manno in July of 2016. "This little angel is not even a day old and is already our entire world," Fedotowsky told the magazine. "Molly Sullivan is named after two very important women in our lives. My late grandmother, Molly Fedotowsky, and Kevin's late grandmother, Eva Sullivan, will both live on in our little girl."
In November of 2017, the former Bachelorette told Us Weekly about the pretty spectacular way she told her family that she was expecting again. "The day I found out I was shooting photos with my friend who's a photographer. I basically took a test in the bathroom and went out to start my makeup and realized I forgot about the test, like, 20 minutes later. Went back in and saw the results, and I was like, 'Oh, my God! Oh, my God! Oh, my God!'" she shared.
Fedotowsky then said she told her husband by incorporating a special book into that day's photoshoot:
When Kevin got home from work later that day and I was finishing up my shoot with Ashley, I said, 'Oh, I wanna get one last photo of us packing a suitcase because I wanna do a blog about traveling with an infant. About halfway through shooting that scene, I went and got the book that said 'You're Gonna Be a Big Sister!' and I gave it to Kevin while my photographer was shooting.
She then explained that the news was extra significant considering that after undergoing a hip procedure, she wasn't sure she would be able to conceive again. However, she revealed that she did in fact get pregnant "on the very first try."
However, Fedotowsky has also been transparent about the other challenges that come with new motherhood. "For the first eight months of Molly's life, we never had anyone else watch her, not even a family member. After months of no breaks and little sleep, I legit had a mental breakdown. I remember I was in our kitchen, crying to Kevin on the phone, saying, 'I can't do this anymore! I need help!' I was holding Molly. She was screaming. I was screaming. It was like out of a movie. I lost my mind," she told Fit Pregnancy.
However, it seems that things have gotten a bit easier in the Manno household. The magazine also reported that she started Molly on sleep training to get on a more regular schedule, and has since hired a part-time nanny to help out as well. Fedotowsky noted at the time that she and her husband always wanted another baby and wondered "if it gets harder when a second child comes into the mix." Here's to finding out.